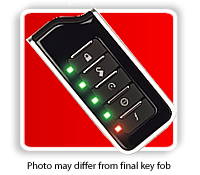 You've been out in the Michigan winter enjoying the day or at a sporting event and the car has been sitting in the cold for hours. You and your family need to get warm quick and a cold car awaits you with chilly leather seats. Your significant other's answer to this dilemma is to send you out to warm the car up, but you have a different solution.
With the touch of a button you can start your car, lock or unlock your car, turn on the dome light, adjust the heat, or virtually anything else you need.  Remote starters have advanced a lot of the recent years and the options are plentiful.
Auto One Offers a Wide Variety of Remote Starters
Viper
Python
Clifford
Avital
XpressKit
Ready Remote
Astroflex AstroStart
Automate Security
Autostart
Today you can choose from different remote start kits and if you link it to your cell phone you can show off to the boys. Some remote car starters now have an "app" so you can start your car with your mobile phone. Visit one of our Auto One locations to try them out yourself and get started.