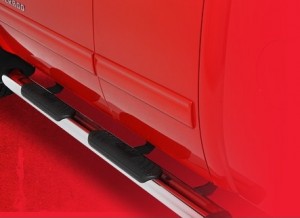 You have the truck in the best color.  Now you want it to get the attention on the road it deserves.  You're wondering what would make the perfect addition and then it hits you.  Chrome plated side step bars, which is just a fancy name for kick butt running boards.  These babies could make a Gremlin look good.
Yes, I know I said Gremlin, but really it's true.  These running boards are it!  Dee Zee has been doing this for over 21 years and they are constantly working to make their products better and better, and it shows.
About the Side Step Bars
Chrome plated stainless steel will never rust
90 degree bends create a sleek look
Molded plastic step pad for secure footing
No-drill, custom-fit applications  with zinc-plated  hidden bracing and hardware to inhibit rust
Limited lifetime warranty
The Dee Zee team makes their truck accessories look fantastic because they stay informed about the truck market and the wants of their customer.  Dee Zee's running boards are sold in pairs, and as long as you're a little handy you can install them yourself.  If not, enlist the help of your friendly Auto One expert.
Auto One is the place to go for all of your truck accessories and to make your vehicle "pop".  Visit one our showrooms to see various products we have or visit our website to get some ideas on your next birthday present.