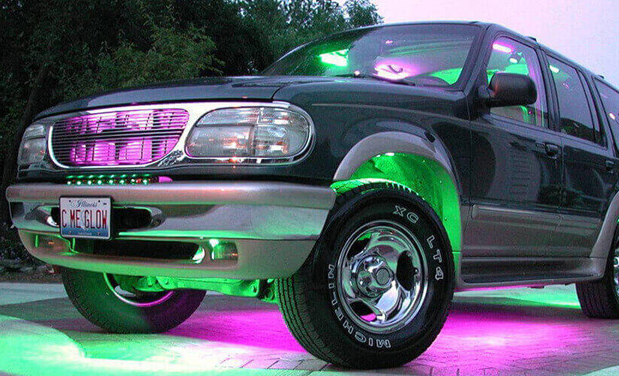 Enhance the Appearance of Any Vehicle
LED lights have become part of the mainstream in the past few years. They are used in everything from standard light bulbs to Christmas tree lights. Because they are small in size, LED lights provide unique design opportunities to enhance the appearance of any vehicle.
Freshen up the look of your vehicle with LED lights. There are a wide range of styles and colors to choose from. LED lights can transform your ordinary car or truck into a hot rod. They are a simple and affordable way to upgrade your ride.
Here are five types of LED lights you'll want to consider:
1. Interior Lighting Kits
LED lights can change the color and vibe of your vehicle's interior. These are simple lighting packages that range in price from $30 to $60. They come in a variety of colors and are easy to install. Many kits are expandable and can be linked together for special effects.
2. Underbody Lighting Kits
With underbody lighting, you can be sure that your vehicle will grab everyone's attention as you cruise down the highway. The kits come in both single and multi-color options. Kits may range in price from $65 to $200 depending on the options. There are many lighting effects available and these are typically managed through a wireless remote. Some lighting packages can also be controlled through an app for either an iOS or Android smart phone.
3. Wheel Well Lighting Kits
Wheels can define a vehicle, especially in a high-performance sports car. Wheel well lighting kits use flexible tubes to illuminate the wheel well or fender well of any vehicle. They range in price from $70 to $120. Basic models simply illuminate the wheel well, while more advanced models offer multiple lighting modes to choose from. Some even offer sound options.
4. Engine Bay Lights
Opening up the hood to a display of colored lights is one way to make an impact. Engine bay lighting uses flexible LED tubes that can be placed around the engine bay. A typical kit costs about $40. The kits come in a variety of colors and offer multiple lighting patterns.
5. Motorcycle Lights
LED lighting for motorcycles can enhance both style and safety. Lighting packages range in price from $30 for simple underbody lights, up to $90 for a more detailed package. The lights come in multiple flexible tubes, allowing you to choose the best location for the lights. The lights operate on a simple remote and can also be linked to a smart phone.
Benefits of LED Lights
LED lights are energy efficient. They produce light approximately 90% more efficiently than incandescent bulbs. And LED lights last longer than other types of light bulbs. Typically, they do not burn out or fail. Instead, they slowly lose brightness over time until they eventually need to be replaced. LED lights are both reliable and functional.
If you're looking to add some LED lights to your car or truck, Auto One is the place to go. If we don't have it in stock, we can also special order items for you. To learn more, call or visit your local Auto One store today.
Sources:
www.ledunderbody.com
www.fancygens.com