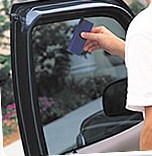 We've all notice it. The sun is rising a little earlier and the days seem longer. Spring is just around the corner. Spring weather in Michigan is gorgeous, but with that warm weather comes lots of blue skies and sunshine! If you haven't thought of it already, now is the perfect time to consider into professional window tinting at Auto One.
Professional window tinting makes your car or truck look great, while still offering a host of other features.
Benefits of Professional Window Tinting
Your vehicle will stay cooler during the hot summer months because window tinting limits the amount of heat that enters into your car or truck
It provides added security and privacy
It will reduce the fading of your car's interior due to the level of UV protection window tinting offers
Our experienced professionals will not only install your tinting for you, we'll help you select the right color and shading for your car or truck.  Our window tinting is made with premium grade, scratch resistant material so back our services with a lifetime written film warranty on cracking, peeling, and delaminating.
Visit one of our Auto One service providers to check out the many car and truck accessories available.