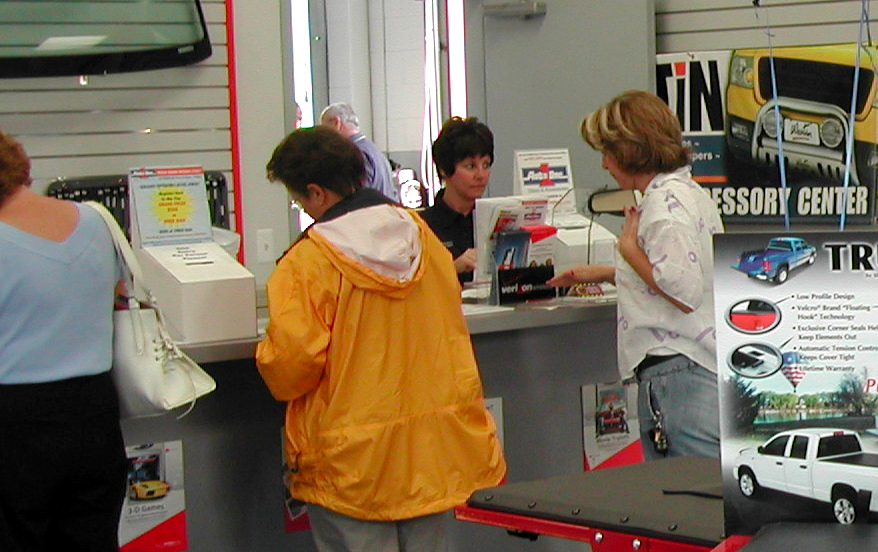 Shop local. Save jobs.  It seems like a no-brainer, but as a local auto glass company with stores across Michigan and Indiana, we see the negative impact of manufacturing and service jobs moving overseas. The United States lost approximately 5.7 million manufacturing jobs between March 1998 and 20131.  Among those lost jobs are auto glass manufacturing jobs and entire auto glass replacement shops.
Losing Locally-owned Businesses
We all have a choice when buying products and services. We can buy from the locally owned and operated business or we can buy from the national or international chain store.  Buying from a locally owned business ensures that your money stays in the local economy where it can be invested by that local business in more jobs.  Small businesses account for over half of the private-sector workforce and have created nearly two-thirds of the nation's net new jobs over the past decade.2   Supporting local businesses in your community can have a big impact.
Bringing Manufacturing and Jobs Back to America
What happens when we bring manufacturing and jobs back to America? Ask the residents of Ohio about the impact of the Fuyao Glass America Inc.'s auto glass manufacturing plant in Moraine, OH, and the entire state.  The new plant is estimated to have had an economic impact of $280 million3 on the local and state economy. Fuyao supplies to a multitude of auto companies including General Motors, Ford, Nissan, Mazda, Toyota and Honda4. From new plant jobs to contracts for local businesses to new restaurants for workers to business partnerships, USA based manufacturing makes a huge difference beyond just the plant itself.
How Can You Help?
As a consumer, you can help by supporting companies that create and preserve jobs right here in the U.S.  Given a choice between a product made in the U.S. and an identical one made abroad, 78 percent of Americans would rather buy the American product, according to a survey by the Consumer Reports National Research Center. More than 80 percent of those people cited retaining manufacturing jobs and keeping American manufacturing strong in the global economy as very important reasons for buying American. We couldn't agree more.
What does "Made in the USA" mean? And how can you identify what's made where?  Look for "Made in America" statements and disclaimers.  "Made in the USA" claims can be "unqualified" or "qualified."  The difference is subtle but important to know.
Unqualified Made in America claims mean that all or virtually all significant parts and processing are of U.S. origin. There's no need to "qualify" where the parts came from because they are all made in the U.S.A.!  The product may contain a small amount of foreign ingredients if they're not significant—the knobs of a barbecue grill, for instance. Companies must be able to document any claim.
Qualified claims means the company needs to tell you where the parts came from.  For example, take the iPad Mini. The packaging says, "Designed by Apple in California, Assembled in China." That's an acceptable qualified claim. The federal government requires companies to post prominent, unambiguous statements (such as the actual country of origin) to leave an accurate impression5.
If you want to buy American products, these tips should help:
Read all product labels carefully.
Consult websites that name companies making products in the U.S., such as americansworking.com.
Contact a manufacturer directly if you have questions.
Shop Local and Save Jobs
When it comes to replacing your windshield, find a local glass shop, and let them process the insurance claim for you.  Shops like Auto One Glass & Accessories have been processing insurance claims for decades and will make the insurance claims process hassle free.  Check the websites of any glass shops that appear in your online searches to verify they are locally owned and operated.  When in the shop, ask the installer to order auto glass 'made in the USA'.
Auto One is proud to be an American-based company, creating jobs in local shops right here in the Midwest.  When we say 'shop local and save jobs,' we mean saving jobs for hard-working Americans.  We think it's important, and you should too.
Source:
1http://www.epi.org/publication/the-manufacturing-footprint-and-the-importance-of-u-s-manufacturing-jobs/
2 https://www.washingtonpost.com/business/on-small-business/who-actually-creates-jobs-start-ups-small-businesses-or-big-corporations/2013/04/24/d373ef08-ac2b-11e2-a8b9-2a63d75b5459_story.html?tid=a_inl
3 http://www.bizjournals.com/dayton/news/2016/08/25/fuyao-surge-felt-by-small-businesses.html
4 http://www.bizjournals.com/dayton/news/2016/06/23/fuyao-aims-to-be-the-backbone-of-the-north.html
5http://www.consumerreports.org/cro/magazine/2013/02/made-in-america/index.htm