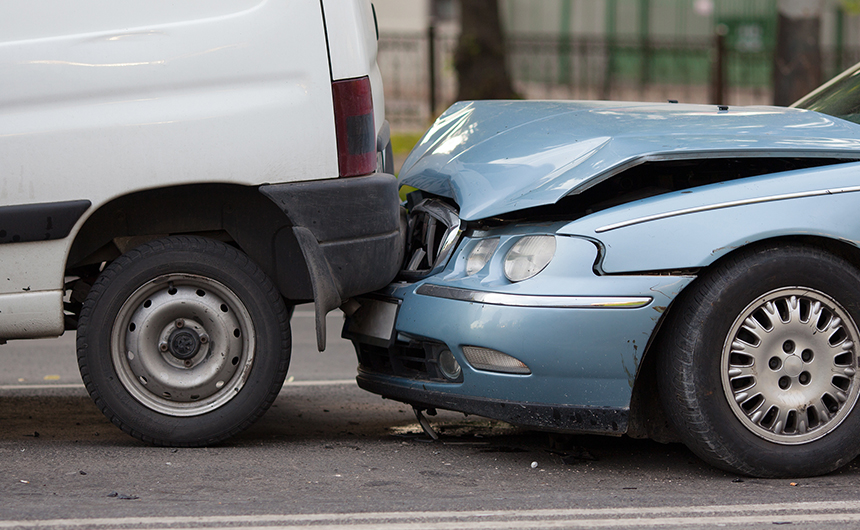 Distracted Driving Causes Crashes
Research shows that 90 percent of crashes are caused by human error. That's why the National Highway Traffic Safety Administration and every major automaker are focusing on systems that allow the vehicle to become a partner in the drive by monitoring a car's surroundings, warning the driver of potential danger, and even taking control of the car in some cases.1
One cause of accidents that has gained a great deal of attention in the past few years is driver distraction. This includes cell phone use and texting, as well as other activities such as eating, talking to other passengers, or adjusting the radio or climate controls.
Ten percent of fatal crashes, 18 percent of injury crashes, and 16 percent of all police-reported motor vehicle traffic crashes in 2014 were reported as distraction-affected crashes. Meaning that the driver was identified as distracted in some way at the time of the crash.2
Crash avoidance technologies have the potential to intervene when a driver is distracted, preventing an accident and potentially saving lives.
What are crash avoidance technologies?
The term "crash avoidance" can encompass a wide variety of vehicle features designed to help the driver operate the vehicle safely. New vehicles increasingly offer advanced technologies that assist the driver with warnings or automatic braking to avoid or mitigate a crash. These advanced technologies vary in their function and how they operate.
In general, they monitor driver input and the environment around the vehicle and warn the driver when they detect the possibility of a collision. In some cases, they increase braking power or adjust steering response to make the driver's actions more effective. They also may automatically brake or steer the vehicle if the driver does not take action to avoid the collision.3
But you don't have to purchase a new vehicle to take advantage of these life-saving technologies. Many crash avoidance systems can be added to your vehicle on an aftermarket basis.
Do these technologies actually work?
Recent studies show that front crash prevention technologies are effective at reducing crashes. One study reviewed police-reported crash data from 22 states from 2010 through 2014 and found that vehicles equipped with front crash prevention were much less likely to rear-end other vehicles than the same model vehicles without the technology.
Systems with forward collision warning and automatic braking cut rear-end crashes in half, while forward collision warning alone reduced them by 27 percent. The auto-braking systems also greatly reduce rear-end crashes involving injury.
What products are available that can be added to my vehicle?
There are many products on the market that offer a combination of crash prevention and early warning technologies. Here are just a few of the products that you may want to consider:
Mobileye® 560 is a safety solution for collision prevention and mitigation. The system includes a smart camera located on the front windshield inside the vehicle. It utilizes Mobileye's vehicle, lane, traffic signs and pedestrian detection technologies to identify traffic signs, measure the distance to vehicles, lane markings and pedestrians, providing the driver with life-saving alerts.
Voxx's LDWS100 is a forward collision and lane departure warning system with a built-in DVR. The LDWS100 recognizes traffic lane markings and vehicles in front of you and warns the driver with an audible tone when it detects an accident risk. The lane departure warnings work on freeways and arterial roads when traveling at or above 35mph and the forward collision warning system is engaged anytime you are driving at or above 15mph. The system allows the driver to set the level of warning, frequency, and even volume of the alert tones to personalize the system in a way that works for them.
Rostra's RearSight® Automotive Rear View Backup Camera System makes backing up easier and less prone to accidents. Nearly every kind of vehicle can benefit from a RearSight Camera System. This simple safety solution includes a camera mounted to the rear of the vehicle and a rearview mirror that allows the driver to view the images from the camera as they are backing up. RearSight offers multiple camera and mirror combinations for you to choose from.
Your local Auto One store can help you find the products that will work best for your vehicle. Call us today, or visit a location near you.
Source:
1http://www.consumerreports.org/cro/magazine/2014/04/the-road-to-self-driving-cars/index.htm
2 https://crashstats.nhtsa.dot.gov/Api/Public/ViewPublication/812260
3 http://www.iihs.org/iihs/topics/t/crash-avoidance-technologies/qanda