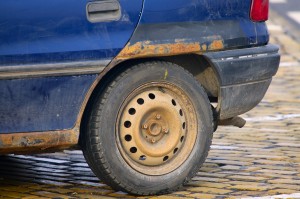 Rust corrosion will eventually eat completely through your metal vehicle unless you stop rust with an undercoating for cars from your local Auto One.
What is Rust?
Rust is the chemical process of oxygen and water combining with iron (like the steel in your car, truck, van or SUV). When those elements find unprotected steel, they merge forming the brown, flakey material we call rust.
Rust Proofing at Auto One
Auto One has been providing rust protection for over 30 years. Corrosion protection was the first product Auto One provided to customers. Over the decades, we have refined our rust proofing service to give you the best corrosion inhibitor available.
Our detailing department completely cleans away any dirt and debris from your car or pick-up truck.
Our technicians spray a rustoleum type product onto the under carriage sealing the metal and blocking oxygen, water, salt and other chemicals from touching the metal surfaces.
Our rust proofing protection is clear and will not affect the appearance of your vehicle. It vapor seals vehicle body cavities where rust likes to start.
Once dry, our car protection prevents rust from starting on your car, pick-up truck or SUV.
In addition to rust proofing and protection, Auto One also offers spray-on bed liners for your truck bed, paint protection to preserve your cars finish, and interior barrier to protect your car's upholstery. Contact your local Auto One Glass & Accessories to discuss options.