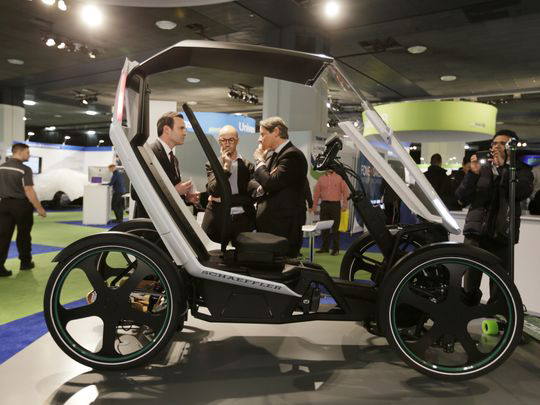 New Concept Vehicle Creates a Buzz
The North American International Auto Show (NAIAS) kicked off its preview week on January 9, with the show opening to the public on January 14. Every year, the NAIAS features the latest concept cars and hottest new technology for car and truck enthusiasts. It is the present and future of the automotive industry, all under one roof.
Just in case you missed it, we've gathered the must-see highlights from this year's auto show.
New Technology for Mobility
As always, the auto show is the place to see the latest in new technology and innovations. This year, a new exhibition called AutoMobili-D garnered the most attention.
AutoMobili-D offered a showplace for a whole array of new mobility and connected vehicle technologies. This special exhibit was only available to the press and industry insiders during the preview week. Here are a few of the hottest products:
Electric Scooters. These battery-powered, electric scooters are perfect for short trips around the city or on a college campus. They are lightweight, portable and have a range of 14-18 miles per hour, depending on the model. Prices range from $899 to $1,999.
A Zero-Emissions Pick Up Truck. General Motors engineers have taken a Colorado ZR2 pickup with full off-road capabilities and turned it into a hydrogen fuel cell electric vehicle. It takes only three to five minutes to refuel the vehicle with compressed hydrogen, which combines with oxygen to produce electricity. The result is a hugely powerful vehicle that emits water instead of tailpipe pollutants.
A Hybrid Bike/Car. German auto supplier Schaeffler showed off one of its two Bio-Hybrid concept vehicles that is a cross between a car and a bicycle. It is a four-wheeled, pedal- and electric-powered ride. The vehicle is about 5 feet high and almost 7 feet long. It is a one passenger vehicle, but does have room for a child seat. And there is plenty of storage space. It will be released only in the European market because of better bicycle infrastructure.
New Concept Vehicle Creates a Buzz
The auto show is the place to release new concept cars, some of which may never be seen in production. This year, the ID BUZZ by Volkswagen stole the show. It is a microbus that is based on the classic VW Microbus of the 1950s and 1960s. The BUZZ concept offers seating for up to eight people and boasts the interior volume of a larger minivan, like a Honda Odyssey or Chrysler Pacifica.
But unlike its predecessors from decades past, the BUZZ is an electric vehicle with a range of up to 270 miles. And it is intended to convert to a fully autonomous vehicle and allow users to switch from manual control to autonomous pilot mode, with the steering wheel folding away into the instrument panel.
While the designers would clearly like to see the ID BUZZ in production, no decision has been made yet.
Trusted Brands Get a Facelift
In addition to featuring the latest technology and innovations, auto makers are also investing in upgrades to the models that have been trusted brands for decades. Ford is updating the look of its F-150 pickups just two years after launching an all-new version of its top-selling model. The refresh includes a redesigned front-end grille and wheel options, bolder seat colors, first-in-class technology and a new diesel engine option. The refresh is evidence that Ford is committed to keeping its F-Series trucks at the top of the list for buyers across the nation.
Chevrolet also unveiled a redesigned 2018 Traverse that enhances its SUV design elements while migrating to a more truck-like look. It has a twin cockpit, truck-sized storage bins and hidden compartments in the rear cargo area. The Traverse can carry up to eight people and offers more legroom for your passengers and more cargo room for your stuff. The base engine will be a 3.6-liter variable valve V-6 paired with a 9-speed automatic transmission that Chevrolet claims will deliver a 10% improvement in fuel economy.
Learn more about the latest trends and technologies for your vehicle. Call or visit your local Auto One franchise today.
Sources:
autoweek.com
www.freep.com
www.usatoday.com