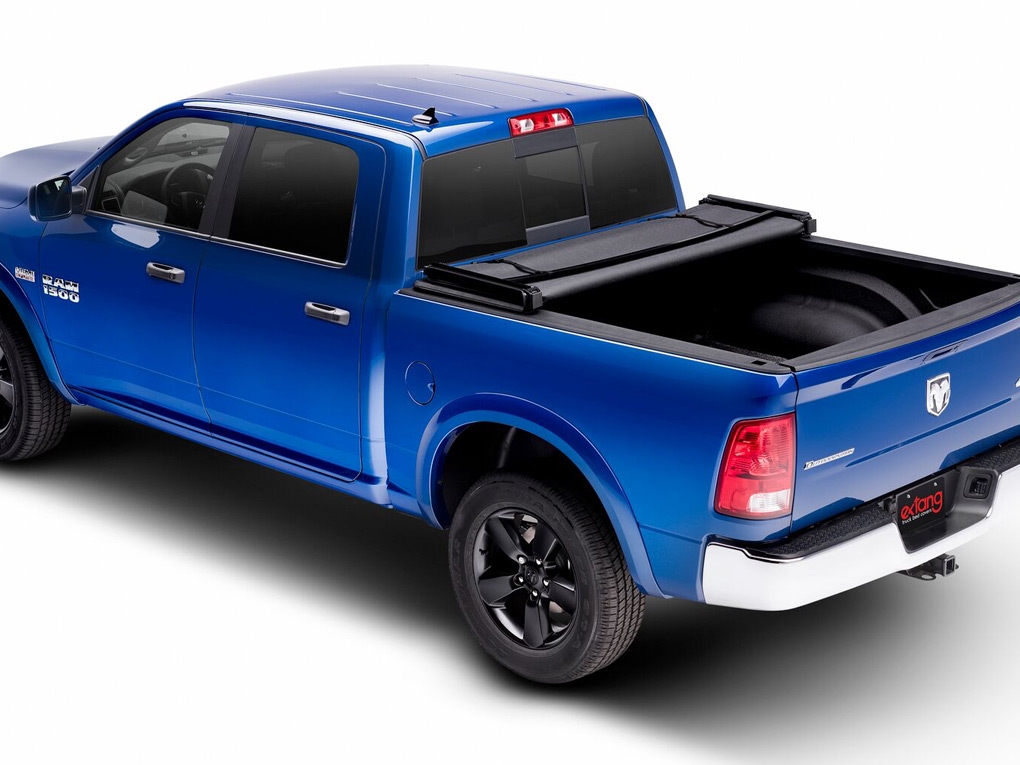 New Trifecta 2.0 by extang
Tonneau covers are one of the most popular truck accessories. And there are so many brands and options to choose from. If you are already a fan of the Extang brand of truck covers, you will want to read more to learn about their latest offering, the Trifecta 2.0 tonneau cover.
Extang is the number one selling truck bed cover brand in North America. They produce well-designed truck bed covers with superior craftsmanship that exceed all expectations. And they are constantly striving to improve their products. In fact, Extang holds more patents than any other truck accessories company.
The all new Trifecta 2.0 has been reinvigorated with a host of new features, but remains easy to install and simple to use. And you can take pride in knowing that it is designed, manufactured and assembled in the U.S.A.
Sleek Design
The Trifecta 2.0 has been streamlined with softer curves to create a smoother, more contoured, low profile appearance. The tarp is constructed of heavy duty, leather grained fabric with an integrated corner tuck system that has improved tarp tension and keeps your truck looking great.
Stronger Frame
The newly redesigned frame is made of lightweight aircraft grade aluminum that Extang boasts to be the strongest in the industry. They have also added a new MaxHinge that has a rugged, double pivot design. MaxHinges are made of durable, glass-filled nylon and feature protective padding. And Extang's exclusive snap-on seals eliminate adhesive and remain in place for ultimate weather protection. All of this adds up to a strong, solid cover that you can rely on to protect your cargo in any weather conditions.
Easy to Operate
The Trifecta 2.0 also includes new and improved clamps that work smarter for you. The new front Jaw-Grip clamp tightens horizontally to help prevent over tightening and bed flange damage. The rear EZ-Lock clamp auto locks in place and requires less physical effort to operate. You can access all of your gear and supplies in less time, while ensuring that everything is stowed away securely when not in use.
Choose the Trifecta 2.0 Signature Series for Enhanced Features
In addition to the standard Trifecta 2.0, Extang is also offering an enhanced model. The Trifecta 2.0 Signature Tri-Fold Tonneau Cover has all the features of the Trifecta, but with a premium canvas tarp, instead of vinyl. The canvas is extremely durable and is less affected by the weather, while adding a premium look. Along with the heavy-duty canvas, the Hold-Tite Straps and Snaps, WeatherTuff Seals, and MaxHinges are all engineered in order to ensure the best in security and safety.
The Trifecta 2.0 is available for nearly every truck model. Installation is easy. It doesn't require any assembly or drilling. Simply square up the cover to your truck and clamp the cover on. It attaches to your vehicle in a matter of minutes. And you can feel confident that you are protected by their industry-exclusive Lifetime Warranty.
If you're considering a new tonneau cover for your pick-up truck, call or visit your local Auto One franchise today. We can help you find the perfect fit for your vehicle.