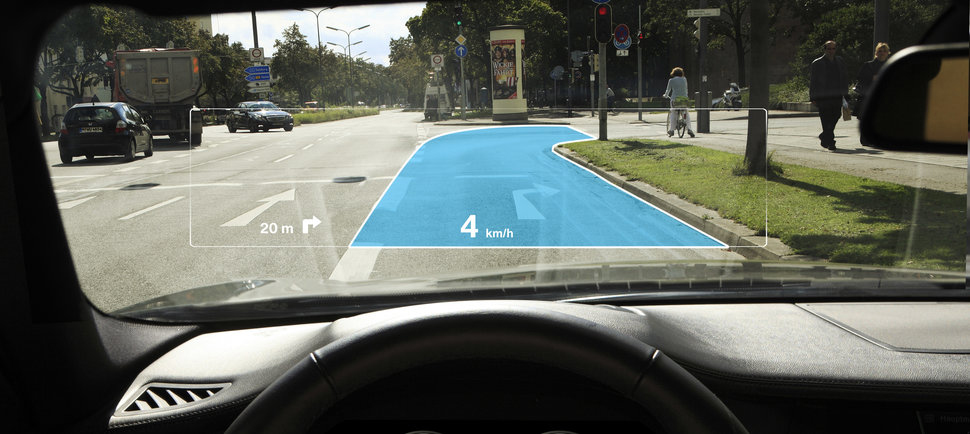 Heads-Up Car Display Technology
We all know the dangers of distracted driving. In today's world there are so many things vying for our attention while we are at the wheel. A heads-up display, commonly referred to as a HUD, is the latest gadget for your car or truck that is designed to help keep your eyes where they belong: on the road, and focused forward.
What is a HUD?
A heads-up display functions by projecting information onto the windshield of your vehicle. This information is only visible to the driver. The HUD can display the same information you would get from your vehicle's dashboard, such as your current speed and various temperature gauges.
Some models can also incorporate information from a smart phone or GPS into the display, allowing drivers to do everything from reading and responding to emails to checking how many more miles are left on their trip, all without needing to take their gaze off the road in the process.
Although current HUD technology is still a relatively new entry into the market, there are a few different options to meet your needs and budget.
In-Car HUD (Fully Integrated)
These are HUDs that are already installed as a part of the car, which means they can pull data from everything that's actually happening from inside the engine in real time, as opposed to relying on a GPS from your phone to assist with certain calculations.
The HUDs are available in some luxury car models, such as the Audi A7, the Mercedes S55, and a dozen or so vehicles under the GM umbrella. There are a few other brands offering this technology on a limited basis, such as the Mazda 3, MINI Cooper, Chevy Camaro and the Toyota Prius.
Most integrated HUDs that come as a factory option measure up to 7 ½ diagonal inches, just slightly larger than most smart phones, but auto makers are looking to increase the size of the displays in future models.
HUD Apps
If you're not in the market for a new car, or if a HUD is not an available factory option, there are apps that can provide a similar function. Most of these apps are free for download in both the iTunes and Google Play app stores. The apps work by brightly displaying a reverse image of your speed (tracked through the phone's internal GPS) onto the windshield when the phone is mounted on top of the dashboard itself. Your windshield then reflects this image back to you with any other information the app collects.
Third Party HUD Devices
Finally, there are freestanding HUD devices that can sit on your dashboard. Most third-party HUDs work by linking to either your phone's internal GPS or finding a signal of their own from a satellite to estimate how fast your vehicle is going at any given time, and display the information back onto your windshield. Current models vary in price from around $50 for a basic model from HUDWAY Glass, to around $200 for a mid-priced model from Garmin, all the way up to $600 for the Navdy.
Of all the third party HUDs, the Navdy has attracted the most attention in the market. Instead of projecting information onto the windshield, the Navdy actually contains its own small screen that sits at the base of your dashboard, where your eyes naturally rest while driving. The Navdy comes with a range of apps that can be connected via your smart phone, such as Twitter, Facebook, and Spotify, all of which can be controlled via quick hand-gestures thanks to the unit's internal camera.
The Future of HUDs
Heads-up displays have the potential to revolutionize the way we drive in the future. Drivers may soon be able to set aside their smart phones and have all the information they need while on the road. More advances are on the horizon, including larger displays and more functionality.
This technology is advancing quickly, so be sure to check back with your local Auto One experts for the latest developments.
Sources:
www.thrillist.com
www.howtogeek.com