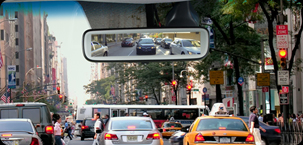 Gentex Full Display Mirror
When it comes to driving safety, what's behind you can be just as important as what lies in front of you. Yet, many drivers find their rear view is obstructed in some way.
Current trends in vehicle design are leaning toward smaller rear view windows. Other components, such as headrests and roof support pillars, may further limit your ability to see what's behind you.
You may also experience temporary restrictions on your vision due to passengers or cargo in the back seat. Whether you're heading out on a summer road trip, or making a quick trip to the home improvement store, you may find that your rear vision is compromised.
A Full Display Mirror Can Make Driving Safer
The all new Gentex full display mirror is the solution to ensure that you have clear vision from your rearview mirror. It has an intelligent rear vision system that uses a custom, externally mounted camera and mirror-integrated video display.
This hot new product was previously only available to auto manufacturers, but it is now available to the public on an aftermarket basis. That means you can take advantage of the latest rearview mirror technology for your vehicle.
Larger Display Helps You See More Clearly
While many aftermarket mirrors come with a standard 3.3 inch display of the images from the rear camera, the new mirror from Gentex has a full 7.3 inch LCD color display. This display provides clear, crisp pictures from the rear-mounted camera, even at night.
Two Modes of Operation, Allowing the Driver More Control
The new full display mirror performs dual functions, activated with the flip of a lever. The driver can choose to use it as a standard automatic-dimming rearview mirror, or switch over to the display mode, activating the clear, bright, 7.3 inch LCD display view from the rear camera.
The two modes are essential, just in case the camera becomes damaged or is not operational, the product can still be used as a standard rearview mirror. The driver can also switch back and forth between modes to accommodate usage preferences for various weather conditions and driving tasks.
Multiple Video Inputs to Connect Additional Cameras
One of the benefits of the large 7.3 inch display is that it provides enough space to allow for split screen views that are still clear and crisp. The full display mirror is equipped with a multi-view camera and split screen views, including:
Split Screen: Top/Bottom
Split Screen: Left/Right
Split Screen: Left/Right/Bottom
Split Screen: Left/Right (Side Cameras)
Full Screen (Side Camera)
The split screen options vary, depending on which model of the mirror you choose. These options are great if you decide to link multiple cameras to the mirror.
The Gentex full display mirror is compatible with almost any vehicle. It comes with a complete installation kit consisting of the mirror, camera, cables and wire harnesses, and several bracket options for mounting the camera to the rear window.
If you'd like to know more about the latest in rearview mirror technology, our Auto One experts are here to help. Call or visit your local Auto One store today.