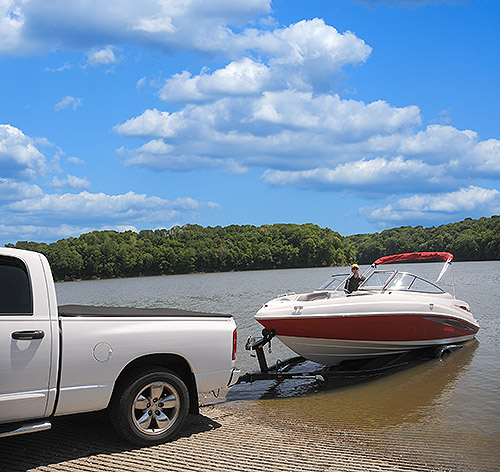 The long winter months are almost behind us. As soon as the snow and ice melt away – and all of those potholes are patched up – it will be time to get out and ride. Spring is a time of new beginnings. And it is the perfect time to repair and recharge your pickup truck.
First, take a few minutes to assess the damage from the harsh winter weather. Bring your truck to Auto One for an exterior detailing. Once your truck is clean and dry, we can figure out what you need to get it back in shape.
Here are a few things you might find that should be fixed as soon as possible:
Windshield Chips or Cracks
If you notice any small chips in your windshield, make sure to get the chips repaired before they expand. Even a small chip can damage the integrity of your windshield and increase the risk of a larger crack that can impede your visibility. Small chips and cracks can be repaired easily, and at a much lower cost than a full windshield replacement.
Rust or Corrosion
Spring is a great time to apply rustproofing treatments to your vehicle, as the warmer temperatures allow the product to seep into the cracks and crevices. Rustproofing can help extend the life of your vehicle and minimize future repair costs from rust damage. It can also help maintain your truck's resale value.
Interior Stains or Damage
You may want to consider auto detailing to handle any stains on the interior of your vehicle. Even if you use protective floor mats, you may notice salt build-up on the floor of your truck. You may also have stains on your seats. Auto detailing can give your truck a fresh new look. In addition to the interior, you can also have detailing on the exterior of your vehicle to protect the paint job and improve your truck's appearance.
In addition to completing necessary repairs, you may want to think about ways to give your truck a new look and feel for spring. Here are just a few options to consider:
Bed Liners
If you are hauling equipment or raw materials in your truck, you will want to protect your truck bed with a bed liner. Bed liners come in a variety of materials that are slip-resistant, stain-resistant and waterproof. Protect your investment in your truck by adding a bed liner. It can prevent stains, scratches and other damage to your truck bed.
Cargo Storage
Start planning for those spring and summer road trips by adding new or enhanced storage to your truck bed. Whether you are packing sports gear, hunting or fishing supplies, or other recreational equipment it will all fit perfectly with the right storage system. Consider a bike rack that mounts on top of your truck bed cover or a DECKED storage system that maximizes use of your truck bed by adding slide-out drawers underneath.
Bluetooth Stereo
Bring all of your favorite tunes on the road with you by adding a Bluetooth stereo system in your pickup truck. Not only will you enjoy awesome sound quality, but you can connect to your music library on your smart phone or use apps like Pandora or Spotify to stream all of your favorite music while you drive. Some stereos even feature touch-screen displays with additional options, like an integrated GPS.
Auto One is your source for anything and everything related to your truck. Whether you are looking for windshield repair or detailing services, or you want to check out the latest accessories, we can help. We have everything you need, from expert advice to hassle-free installation. Call or visit us today!