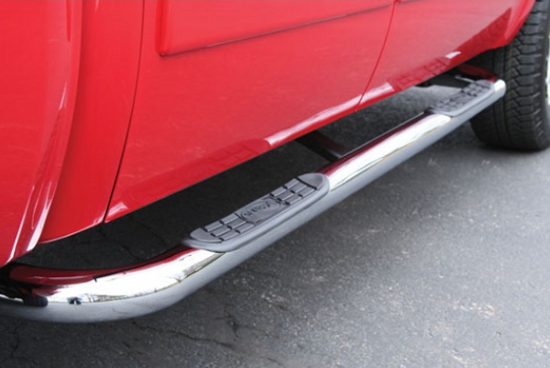 Get Your Vehicle Ready with Auto One
One of the reasons trucks and SUVs have become so popular is because of their height. Being behind the wheel places you in a powerful position where you can see everything on the road in front of you. And it makes other drivers on the road take notice and give you some space.
While being high up off the ground is great for the driver, sometimes it can be a challenge for passengers. As trucks and SUVs get taller, it is harder for people to climb up into them. Luckily, there are several great solutions to this problem. With a huge range of aftermarket running boards, nerf bars, and side steps, you can add both function and style to your vehicle.
There are so many choices, you may not know where to begin! Auto One has put together a quick overview of the products and features to help you decide.
Running Boards
A running board is a wide, flat step that runs the full length of the vehicle. It offers the most traction and stability by creating a seamless step up to the door. The steps are coated with a non-slip surface. Running boards meet the carriage of your truck, SUV, or van, so there is no gap. They are a great option for those with stability or mobility concerns.
Van Rear Step Boards
In addition to running boards for the sides of the vehicle, there are also options for the back of the vehicle. If you have a large cargo van, consider a rear step bar. This bar is mounted under the rear bumper and provides a reliable, slip-free step to access your cargo.
Nerf Bars and Step Bars
Nerf bars and step bars are essentially the same thing. The most basic step bar is a round metal tube that runs along the side of the vehicle. The bar has two flat areas, one near the front doors and one near the rear doors of the vehicle, to allow passengers to step up. The flat "steps" are often coated with a slip-resistant material. Most step bars come in a stainless-steel metallic finish or a black powder-coated finish. They may come in varying widths of 3" to 6" depending on the manufacturer.
Step Bar Variations
In addition to the standard step bars, there are some unique variations that might catch your attention:
Oval – The oval-shaped step bars provide a slightly wider surface area for passengers to step on, providing more secure footing as they enter the vehicle. They come in a straight edge, or a bent edge, which can look more streamlined on your vehicle.
Trapezoid – These step bars have a squared-off edge instead of a rounded edge. The flat steps are in a trapezoid shape.
Wheel-to-Wheel – These are designed for longer length trucks and stretch across the entire wheelbase – hence the name wheel-to-wheel! They may also have additional flat steps, such as one near the rear truck bed, to allow full vehicle access. They also come in varying widths.
Side Steps
A side step is a scaled down version of a step bar or running board. Instead of covering the length of the vehicle, these tend to be a lot shorter. Most side steps are just slightly larger than your foot. They provide a great option if you are looking for something compact that doesn't significantly change the look of your truck. Side steps are not recommended for people with stability or mobility challenges.
Fitting Your Vehicle
Most of the running boards, nerf bars, and side steps are customized to your vehicle. It is not a one-size-fits-all approach. Most vendors offer a function on their website to search for products based on the make and model of your vehicle. That is the best way to narrow down your choices to just the products that will fit your truck or SUV.
For example, TrailFX offers a great search experience on their website to help you understand all of their products. They also offer an online catalog. Once you search the available products, you can rest assured that whatever product you choose will be the perfect fit.
Weight Capacity
Another important thing to consider is the weight capacity of the running boards, nerf bars, or side steps. Each product has a maximum weight capacity that it can support. The weight capacity depends on what the product is made of, and how it is mounted to your vehicle. Most of the products have a range of 250 lbs. to 300 lbs., and some can hold more weight. Be sure to check the weight capacity before making your decision.
 Still Not Sure Which Product to Choose?
The experts at Auto One can help you pick the running boards, nerf bars, or side steps that will fit best with your vehicle and lifestyle. We can even handle the installation! We'll get the job done in no time – and save you the headaches and hassles.
Give us a call today and we can walk you through your options. Or visit your local Auto One store.
Sources: