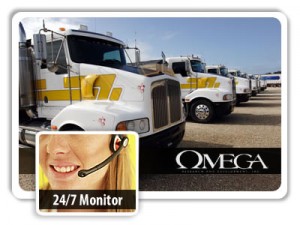 Whether your fleet of cars and trucks are driven by professional drivers or the three teenagers in your life, OmegaGPS vehicle tracking can meet your needs to check on those vehicles at any time.
For the Family
Adding an OmegaGPS real time gps vehicle tracking system to your family car enables you to monitor car speeds and geographic location. You can set maximum speeds and driving locations for your teenager. If those limits are exceeded, OmegaGPS will send you a notification, text or email. Peer pressure can be a strong force on your child's behavior. When it looks like things are moving to a dangerous point, push back with a quick telephone call. If your teen is known for locking their keys in the car at the most inconvenient time, OmegaGPS can help with that too. It acts like a remote control for your car, allowing you to unlock the doors from the comfort of your home.
Monitoring happens on any computer or data-enabled smartphone with a browser. Track one car or five all from the same screen.
For Business
If your company has a fleet of drivers, you should be tracking their movements and ensuring delivery times with vehicle gps tracking. Track the location, speed, and direction of your fleet, anywhere, nationwide.
A vehicle tracking device provides the same monitoring options for business that it does for the home: speed and location. In addition, you can use it to broadcast a command to all vehicles in your fleet. Hardwired gps vehicle tracking devices also act as a car alarm; alerting you to any break-ins.
Add the optional "Personal Assistant" service to provide live monitoring 24/7.
You can learn more about OmegaGPS from their Web site or visit your local Auto One Glass and Accessories. We have one installed on our mobile windshield replacement van as it travels across mid-Michigan.