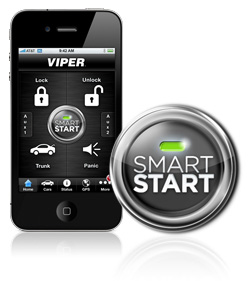 Think about it. First it was SmartPhones. You could get your email all the time from any where. Next it was tablets. Take the Internet into your living room so you can watch TV and surf the Internet. Now the Internet (the Cloud) is becoming part of your car.
There are a number of technologies that are bringing the Internet to your car. With winter just a month away, it's time to look at the Viper SmartStart 3.0. It will connect your car to the Internet and keep it warm for you on a schedule.
The Buzz
The Viper SmartStart 3.0 is the first Viper Android, iPhone or BlackBerry smartphone app that serves as a cloud-connected remote start system and offers SmartSchedule — a patent-pending feature that lets your phone act as a auto remote start and warm up your car based on an electronics schedule.
"Directed Electronics is the only company in the game bringing customers the revolutionary features of the cloud-connected car," said Mike Simmons, President of Directed. "Viper SmartStart 3.0 offers drivers unprecedented connectivity with their vehicles — and this is only the beginning, we have a lot more to come for our customers."
The Details
Viper SmartStart 3.0's new features include:
SmartSchedule:
Cutting-edge new mobile tech that sends smart behavior-based alerts when it's time to remote-start your car.
Cloud-Connected Car:
Ground-breaking new connectivity through the Directed Cloud Services (DCS) network that links the car, app, end user and the Internet.
Vehicle Status:
Not only can you locate your car, truck or SUV with GPS – but you can also know that it's running, armed, locked, and more.
Auxiliary Channels:
A new feature with literally limitless potential, you can customize the SmartStart app to interact remotely with any part of your car — roll down the windows/sunroof, blast the radio — nearly anything you can imagine!
Vehicle Diagnostics:
Get ahead of engine trouble. Alerts sent to smartphones help you to know the health of your car from the cloud.
Viper SmartStart has garnered worldwide media coverage including an iPhone TV commercial, and won the Best of Innovations Award at the Consumer Electronics Show.
Next Steps
For more information about the Internet related features of Viper remote start SmartStart 3.0, visit www.Viper.com/Smartstart or your local Auto One Glass and Accessories*.
*Not available at all Auto One locations