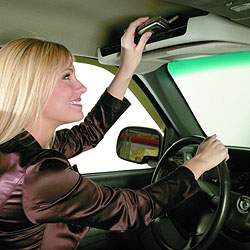 Back to school season is upon us. With all the driving and moving, your car, truck, SUV or van is destined to become disorganized. Push back against the clutter before it's too late with these auto accessories.
Dee Zee Vizor Caddy
Take advantage of the space directly above you by installing a pair of Dee Zee Vizor Caddys. Create an instant shelf that's easily accessible while driving. A flexible net keeps items from falling off the Vizor Caddy.
Lund International Cargo Bar
Keep your sports equipment from rolling around the back of your SUV with a Lund Cargo Bar. The extendable design will fit openings from 40 inches to 70 inches, and the rubber ends will minimize scratches to your crossover's walls.
Rola Interior Organizer
The Rola cargo organizer not only keeps your vehicle together, it's also transportable. Grab the handles and move your load from the car to the house or school event. When not in use, the carrier folds down.
Husky Liner Gear Box
If you have a pickup truck, keep your tools and equipment organized with the Husky Liner Gear Box. It's designed engineered to fit under your vehicle's rear seats. Removable dividers make it easy to store and organize both large and small items such as jumper cables, tools, car care supplies and whatever else you keep in your truck.
To discuss who has the more disorganized car, visit your local Auto One and together we can find the best way to reduce the clutter in our vehicles.