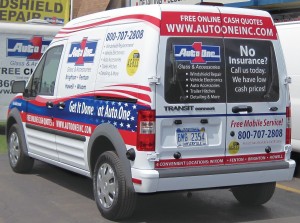 Auto One Glass and Accessories has expanded its mobile service to include Ann Arbor, Ypsilanti, Dexter, Chelsea, Milan and Saline. With the additional mobile truck capacity, the Ann Arbor region can expect prompt, professional windshield replacement service from our Independent Glass Association (IGA) certified installers.
Auto One is an Automotive Glass Replacement Safety Standards registered company. The windshield is an important part of every vehicle's crash response system. Improperly installed auto glass can put our customers in danger. That's why Auto One installers follow the specifications found in the nation's only automotive glass replacement safety standards (AGRSS). We put the safety of our customers, retail shop or mobile, first.
In addition to safety, Auto One offerscustomers discounts off their insurance deductibles for any Ann Arbor windshield replacement work. Amounts vary by insurance company but are often between $25 and $100. That's an instant savings making Auto One the first call for anyone in the Ann Arbor region. Auto One is an authorized auto glass repair shop for all insurance companies and offers a hassle free insurance process doing the paperwork for our insurance customers. Cash customers in Ann Arbor and Washtenaw County can expect low cash prices and can receive an instant quote online.
"Expanding into the Ann Arbor region is a natural fit for Auto One. It's just a quick ride down Hwy. 23 for our mobile fleet. Ann Arbor residents will receive amazing customer service when they call Auto One." Dave and Mitch Zoldowski, owners Auto One – Brighton.