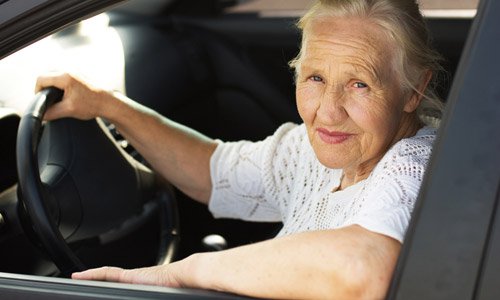 Keeping Senior Drivers Safe
As we age, it is normal for our driving abilities to change. Factors such as decreased vision, impaired hearing, or slowed motor reflexes may become a problem for older drivers. If you are concerned about your parents or grandparents being able to drive safely, there are many driver assistance products that can help.
Many seniors drive older vehicles that are not equipped with all of the latest safety features. Luckily, there are many aftermarket products that are easy to install on any vehicle. With a few quick lessons, even your grandparents should be able to use them. Any of these products would make a great gift for Mother's Day or Father's Day.
Tools to Help Prevent Crashes
Older adults are more likely to receive traffic citations and get into accidents than younger drivers. In fact, fatal crash rates rise sharply after a driver has reached the age of 70. These early warning systems can alert your aging relatives to potential threats while on the road.
Voxx's LDWS100 is a forward collision and lane departure warning system with a built-in DVR. The LDWS100 recognizes traffic lane markings and other vehicles and warns the driver with an audible tone when it detects an accident risk. The lane departure warnings work on freeways and arterial roads when traveling at or above 35mph and the forward collision warning system is engaged at or above 15mph. The system allows drivers to set the level of warning, frequency, and even volume of the alert tones to personalize the system in a way that works for them.
Another great option is the ADAS-1000 by Brandmotion. This all-in-one system includes forward collision warning and lane departure warning, enabled via a camera mounted on the front of the vehicle. It also includes video and event recording, even when you are away from your vehicle.
Prevent Parking Disasters with a Backup Camera
Parking lots can be another danger zone for senior drivers. With so many moving cars and blind spots, it can be hard for them to back out of a parking space safely. A rear view camera can take the guess work out of parking and help senior drivers to get in and out of parking spaces with confidence.
Rostra's RearSight® Automotive Rear View Backup Camera System makes backing up easier and less prone to accidents. It fits nearly every make and model of vehicle. This simple safety solution includes a camera mounted to the rear of the vehicle and a rearview mirror that allows the driver to view the images from the camera as they are backing up. RearSight offers multiple camera and mirror combinations for you to choose from.
Keep Tabs on Senior Drivers with a Tracking System
Another challenge for senior drivers is that they tend to get lost easily, sometimes even within their own neighborhood. A tracking system can tell you the exact location of your loved one's vehicle in case you ever get one of those calls saying "I'm lost, can you help me get home?"
One such system is the Voxx Car Connection 2.0, which plugs into the vehicle's onboard diagnostics port and links with your smartphone via Bluetooth. It is compatible with all vehicles built since 1996. This system allows you to monitor the location of your loved one's vehicle and can even send you an alert if the vehicle travels outside of your designated "safe" zones. It can also provide reports of driving habits, such as speeding and excessive braking.
Everyone ages differently, so there is no arbitrary cutoff as to when someone should stop driving. By reducing risk factors and incorporating safe driving practices, many adults can continue driving safely long into their senior years.
Your local Auto One store is your source for assisted driving products to help keep your loved ones safe while on the roads. Call us today, or visit a location near you.
Source:
www.helpguide.org