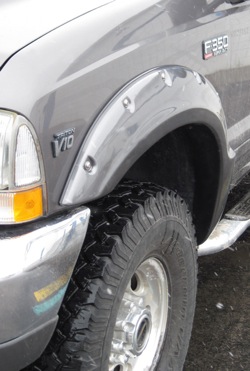 For those of us who live on dirt roads, we know how messy and muddy up our cars and trucks can become, especially in the spring time, which is right around the corner! Mud flies, rocks get stuck, it's just a mess. It's time to start thinking about adding flares to your fenders to prevent this from damaging your truck in ways such as denting and chipping the paint.
Fender flares are a great accessory for many vehicles, but are especially useful for off-roading vehicles, which often sustain even more damage than just living on a dirt road. You want to check out Stampede Truck Accessories's fender flares.  Like Auto One, they have your best interests for your special truck at heart. Plus, they add that extra little oomph of BA factor that will make your truck king of the roadways.
Types of Fender Flares Offered
OriginalRidrz – Beef up your vehicle's bodylines
RuffRidrz – The "bolted" look without the extra work
TrailRidrz – Stylish and practical
Fender flares are form fitting, stylish and practical. Stampede's new lineup of fender flares is an easy to install accessory that will make a huge difference in the appearance of your truck. They also work to keep your truck functioning longer, allowing you to get the most bang for your buck.
Contact Auto One to start the process of installing fender flares today!