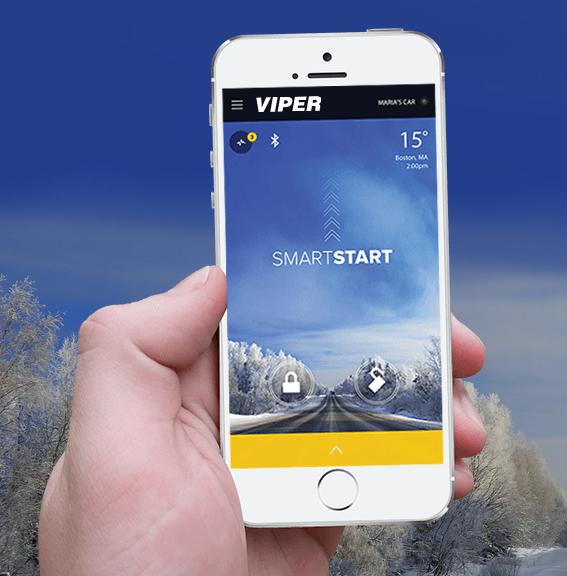 Upgrade Your Remote Start
Even though we know that winter is coming, somehow that first blast of cold weather always seems to take us by surprise. This year is no exception. Overnight temperatures have been hovering just above freezing, which means a cold start for your vehicle in the morning. Now is the time to start thinking about adding a remote starter to help insulate you from the freezing cold temperatures. A remote starter is also good for your engine, giving it adequate time to warm up.
If you already have a remote starter on your vehicle, maybe you'll want to consider upgrading to a newer model with even more features. That way, you won't have to be jealous when you see your co-worker starting his car from his smart phone. You'll be able to do the same thing!
Check out the latest and greatest in remote start solutions for your car or truck.
Viper SmartStart
The Viper SmartStart system offers the latest in remote starter technology – and it is all connected to your smart phone. With the Viper SmartStart, you can:
Remote start your car from the comfort of your home or office.
Remotely unlock and lock your vehicle right from your smartphone. Perfect for situations where you or a family member has locked the keys in the car.
Locate and track your car or truck and receive alerts when your vehicle reaches a certain speed or when it enters or leaves a designated area. An excellent solution if you have a teen driver in the family.
You can also upgrade to the Viper SmartStart Pro, which is compatible with the Apple Watch or any Android Wearable Device.
CarLink
The CarLink 6 offers a complete convenience and security solution, providing access to your vehicle without the use of a transmitter. CarLink transforms any compatible smartphone into a virtual transmitter with a nearly unlimited range to operate your remote start and security system. Features include:
Remote Start/Keyless Entry
Door Lock/Unlock
Door Lock Status
Battery Voltage Status
Vehicle Locater/GPS
CarLink also offers a Bluetooth long-range option, with over one mile of operating range for the remote start and security system.
Power Lift Gate
Another great upgrade for your vehicle is the power lift gate. No more fumbling for the key or trying to balance a handful of shopping bags in one hand while also trying to open the rear tailgate of your SUV. Now you can open your lift gate with the press of a button on your remote keychain. Here are just a few of the features of this hot new product:
It offers keyless solutions with buttons conveniently located at the front and rear of the vehicle.
It comes with a remote control that integrates into the vehicle's keyless entry system.
Adjustable height and speed allow personal control over the lift gate.
Smart protection prevents the lift gate from closing when objects are present.
The product is compatible with Voxx's foot wave – a foot-activated sensor.
Comes with a three-year warranty.
The power lift gate is available for a wide variety of makes and models, including: Buick Encore, Chevy Equinox, Ford Escape, Honda CRV, Honda HRV, Kia Sorento, Nissan Rogue and Toyota RAV 4.
Auto One is Your Source for Automotive Accessories
Trust the experts at Auto One to help you choose the best accessories for your vehicle. We can also save you the hassle by installing your new remote starter or power lift gate while you wait. Call or visit your local Auto One store today.