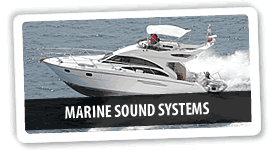 The weather is getting warmer and everyone is excited to get back on the water.  The lake is calling your name, and you've started thinking about pimping out your boat for the summer.  Auto One is the local audio expert and can help you pick out the perfect audio system from the new receiver to "killer" tower speakers.  Just what you need to spend the entire day soaking up the Michigan sun.
You searched for the perfect boat and found it. Now let Auto One help you customize it and be the baddest boat on the lake. We're not just talking about a basic radio here.  This is your baby, so you need the best.
Today's Boat Audio Systems Have Lots of Features
Bluetooth capabilities
iPod and MP3 compatible
Satellite ready
Remote control
And they look awesome
Where can I find marine audio systems?
Visit an Auto One location soon to get started on your pimping out your boat, truck or car with the perfect audio system.