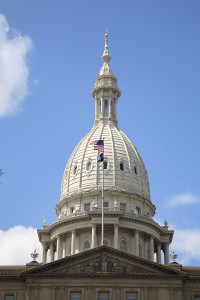 Michigan legislation is working to amend the Michigan Bill #306. How does this affect you? It puts into practice a code of conduct among auto glass repair and replacement providers. Most of the auto glass repair and replacement is paid for by auto insurance providers. Whenever one group controls a market it often times makes for unfair competition and usually it is the small business owners that will suffer.
The legislation is looking at amending the code of conduct to require third-party administrators (TPA) who offer auto glass repair or windshield replacement services to adopt a code of conduct in the process, payment, administration and monitoring of auto glass repair services. All TPAs would be required to file annual information regarding automobile glass repair and replacement claims, as well as quarterly reports on this information to each network glass repair or replacement facility with the Commissioner of the Office of Financial and Insurance Regulation (OFIR). The bill would also prohibit a repair or replacement facility from providing incentives to the insurer in exchange for referrals.
This Michigan bill would put in place numerous requirements for auto glass repair. The code of conduct requirements for the TPAs would be required them to comply with the following:
If the insurer has a preferred auto glass facility they would like to use and that business is in the TPAs network, then no other businesses could be recommended
The TPA network is required to allow new service providers to enroll in the program
If the insurer does not have a preferred business to use for repairs, the TPA would be required to suggest three in network facilities on an objective basis, with no affiliation to the third party biller
Ron Overbeck, co-owner of Auto One, has been working closely with the legislation on the bill. "It's about bringing transparency and objectivity to the referral process, and about protecting small businesses", says Overbeck.
"Whenever we have an entity that basically controls the market, it is the duty of the legislature to be sure that fair play, consumer choice and competition are preserved," Charlie Owens, Director of the Michigan chapter of the National Federation of Independent Businesses (NFIB). With that in mind, Auto One will continue to work with the legislation to ensure that fair competition among businesses are protected and you, the customer, have access to the best quality work available when it comes to your vehicle.
For more information regarding Michigan legislation and Senate Bill No. 306 visit http://www.legislature.mi.gov.