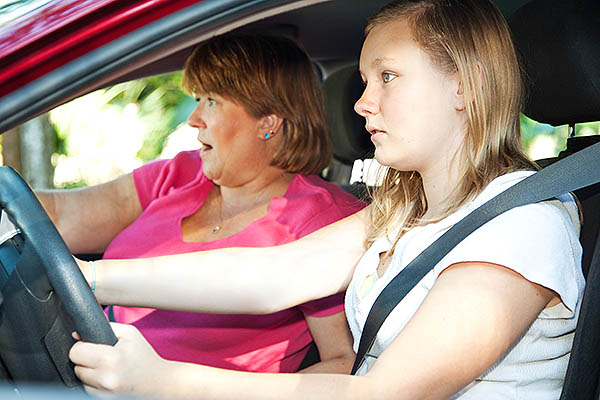 In a recent study by the Highway Loss Data Institute, it was found that advanced driver assistance systems (ADAS) makes younger drivers safer. The Insurance Institute for Highway Safety (IIHS) did a full review of the HLDI report which states "Crash avoidance systems are associated with larger reductions in the frequency of collision and property damage liability (PDL) claims for drivers under 25 years old than those ages 25 and older."
How to make your teen driver safer?
Younger drivers don't always drive the most recent vehicles on the market so what can you do to make your teenage driver safer? Visit your local Auto One. We're experts at installing aftermarket advanced driver assistance systems. Every year the auto electronics available to assist with driving become more sophisticated. These are a few of the add-ons we can install in your vehicle to make driving safer and easier.
Aftermarket Driver's Assistance Add-ons
Escort MAXcam 360c
From the company website, "[the MAXcam 360c is] the first complete driver alert system that combines a high-performance radar detector with an advanced dash camera. " If you need more functionality, Escort has partnered with AT&T to use the HARMAN Spark to connect the MAXcam 360c to the Internet for "continuous updates, shared alerts, cloud video, and advanced safety and security features".
Voxx Electronics Blind Spot Detection
Voxx's Blind Spot Detection 2.0 is equipped with interior LED indicators for audio and visual alerts. The rear cross traffic feature senses vehicles approaching while in reverse as well as the standard vehicles, people or objects entering the blind spot of the vehicle. The Overtaking feature scans for approaching vehicles and notifies the driver when it is safe to change lanes.
Mito Corporation Rearview Mirror and Camera
Mito's rear camera display uses cameras hidden on the back of your teen's car. The camera feed to a large 7.3 inch replacement mirror. When the car is put into reverse the Mito back-up camera shows in the mirror making it easy to see exactly what's behind the vehicle.
Bosch Automatic Park Assist
Parking lots can be one of the most difficult areas to navigate. Parking is tough even under good conditions. Bosch Park Assist can help. "Ultrasonic sensors scan the side of the road, and park assistant steers the vehicle even in tight parking spaces. At the push of a button, the assistant parks the vehicle. All the driver has to do is accelerate and brake."
Rostra Sight AddVantage Vehicle Backup Camera Systems
If your teen is driving a larger vehicle, pick-up truck, Jeep Wrangler or SUV, consider having a Rostra Sight AddVantage Vehicle Backup Camera System installed. "With the popularity of SUVs, trucks and larger vehicles, blind areas behind and beside the vehicle are an increasing problem. Sophisticated technology now makes it affordable for drivers to have an added dimension of safety. An AddVantage Backup Camera System, BackZone Plus, or FrontZone parking assistance system makes navigating in reverse or parking easier and less prone to accidents. Nearly every kind of vehicle can benefit from the Rostra AddVantage."
Rostra's BackZone Plus rear-mount ultrasonic automotive parking assist "is a revolutionary automotive reverse parking assist system developed by Rostra and designed to give every driver peace-of-mind while parking their vehicle in cramped quarters. The BackZone Plus provides both visual and audible alerts to the potential dangers of nearby obstacles through the use of an included buzzer built into a digital display that can be mounted on your sun visor or dashboard."
Alpine Dash Camera
While you can't always prevent an accident, you can record what happened to assist with the insurance claim. Auto One is an Alpine Authorized Dealer, and we recommend the Alpine DVR-C310R. It's a "Premium 1080P Dash Camera Bundle (Front & Rear) with Impact Recording" The system even records when your vehicle is parked. "The DVR-C310 enables impact triggered recording and will record up to 10 seconds after impact."
Additional Aftermarket Add-ons
In addition to ADAS technology, your younger drivers may benefit from
 In-dash GPS navigation
SmartStart, keyless entry and remote start that you can control from your phone
Back-up cameras designed specifically for trailer hitch connections
Car alarms to alert them of trouble
GPS tracking systems
Cracked windshield replacement
Drivers assistance systems aren't just for teen drivers. Everyone can benefit from crash and collision avoidance systems that give you an extra set of sensors to watch the busy highway. Over the years, Auto One has installed driving assistance technology systems for ourselves and for our customers.  Trust the ADAS installation experts at your local Auto One with your next upgrade.