Picture this: your arms are full of groceries and your both truck doors and truck bed cover are locked. One of the bags is already starting to split threatening to dump everything on the ground. If you had a hands-free electric truck bed cover, with the push of a button, you could open the truck bed cover and deposit your groceries safely inside. This miracle of automotive aftermarket convenience is available today at your local Auto One Glass & Accessories.  There are a number of truck bed covers that can be opened with a key fob, smart phone, or the factory remote. Here are a few of our favorite electric truck bed covers.
Hands-free Remote Operation Truck Bed Cover with Key Fob
Roll-N-Lock E-Series Retractable Truck Bed Tonneau Cover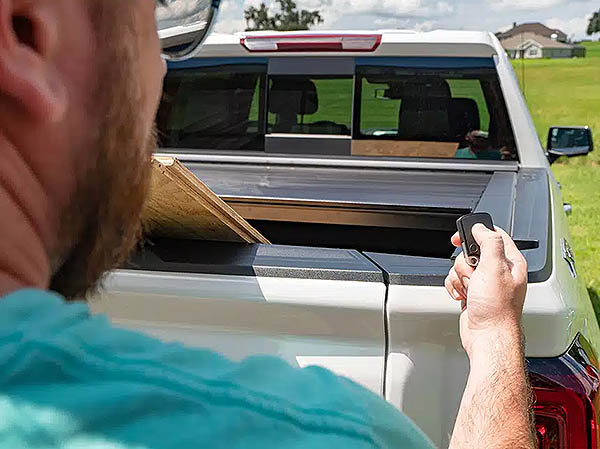 The Roll-N-Lock E-Series Tonneau Cover is the perfect addition to any pickup. It offers "comprehensive bed protection built with a durable all-aluminum construction".
It has effortless operation! The E-Series is a remotely operated tonneau cover. To open and close it, just use the included key fobs.
With a push of a button on the included wireless key fob, the cover retracts into the low-profile canister for nearly complete bed access! With another button press, the cover extends back out of the canister and seals against the tailgate, offering exceptional theft and weather protection.  From the manufacturer Website, these are the highlights of the Roll-N-Lock E-Series Retractable Truck Bed Tonneau Cover:
Premium retractable tonneau cover
Power-retractable operation
Durable double-layer aluminum slats
Low-profile, 7.25″ canister
Integrated LED cargo light
Includes wireless remote
Locks in any position along the tracks
Integrated weather seals and drain tubes
USA-made
Limited 5-year warranty
The E-Series retractable truck bed cover is so intuitive; it automatically stops if it senses objects in the way.  To see the Roll-N-Lock E-Series Retractable Tonneau Cover, visit your local Auto One or check it out online.
---
Unlock a Truck Bed Cover with your Smartphone
Leer's Pace Edwards UltraGroove Electric Tonneau Cover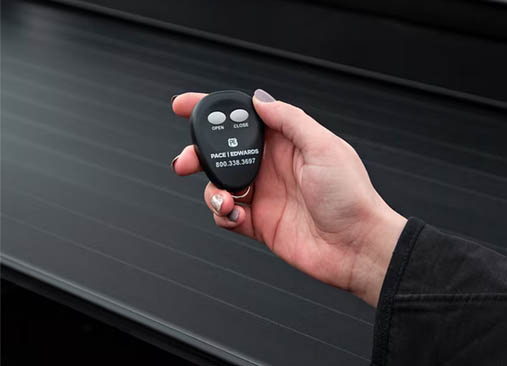 The innovative UltraGroove Electric by Leer is built with heavy gauge aluminum panels and a rugged powder-coated matte black surface with interlocking silicone hinge seals. With the optional Bluetooth module, UltraGroove Electric can be easily operated from both your smart phone and the key fob remotes. With the push of a button, the electro-magnetic brakes on the electric tonneau cover can lock the cover in any position. Leer's UltraGroove Electric is rugged and functional.
UltraGroove Electric Features
Hands-free remote operation includes 2 key fobs.
Retracts into a contoured canister at the front of the truck bed.
Electric motor connects directly to your truck battery.
Durable, matte-black powder-coated finish over heavy-gauge aluminum panels with interlocking silicone hinge seals.
Electro-magnetic brake locks the cover in any position.
Manual release lever allows the cover to operate when the truck or key fob loses power or when Bluetooth doesn't connect properly.
Built-in RES™ Rail Expansion System can easily accommodate Pace Edwards®, Thule®, Yakima® or Rhino systems to carry bikes, kayaks, cargo baskets and more.
Canister is tapered for more cargo space in the truck bed.
Optional Bluetooth module to operate cover from a smart phone works with IOS and Android apps.
Made in the USA.
7-year limited warranty.
Learn more about Pace Edwards UltraGroove Electric by Leer.
---
Open the Truck Bed Cover with the Vehicle's Factory Key Fob
EGR RollTrac Electric Retractable Truck Bed Tonneau Cover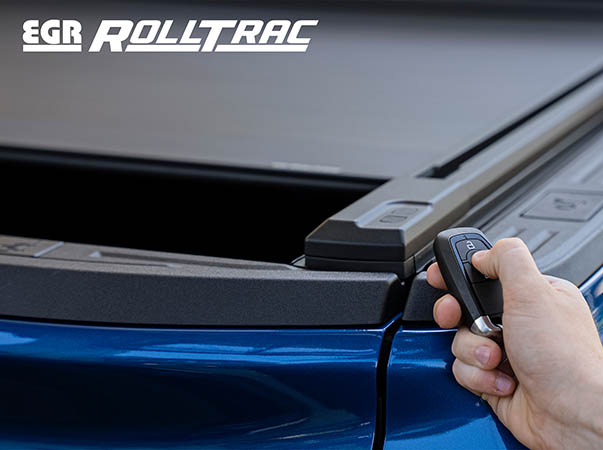 Taking things a step further, EGR USA recently announced that the latest update to the RollTrac truck bed cover allows it to be "effortlessly opened and closed using the [vehicle's] factory key fob. This cutting-edge product marks a significant leap forward in convenience and security for truck owners."
With EGR's latest update, truck owners can now seamlessly interact with their truck bed cover using the same key fob that locks and unlocks their vehicle. This eliminates the need for extra remote controls or phone apps that can be failure points, streamlining the user experience.
Key Features of the EGR RollTrac
Factory Key Fob Integration: Open and close your truck bed cover with the press of a button on your existing factory key fob.
Enhanced Convenience: No hastling with separate remote controls or manual operations. Enjoy the ease of controlling your truck bed cover with the same device you use to access your vehicle.
Robust Security: Rest easy knowing your cargo is securely protected by the most durable and reliable truck bed cover on the market.
Unbeatable Strength: Being a bolt-on cover and not a clamp style shoulders more weight and offers unprecedented security.
Sleek Design: The RollTrac truck bed cover is designed to seamlessly integrate with your truck's aesthetics, enhancing its overall look.
Mike Timmons, EGR's VP of Sales & Marketing for the North American Aftermarket division, expresses enthusiasm, stating, "We are thrilled to lead the industry by introducing a premium all-electric bed cover that seamlessly integrates with the central locking system of various vehicle makes and models."
For more information about the EGR Electric RollTrac, visit www.egrusa.com.
Finding the Best Hands-free Truck Bed Cover
If you are looking for the ultimate in convenience, visit your local Auto One Glass & Accessories to discuss which truck bed covers have the functionality you want and fit your truck. Don't chance buying the wrong size or installing it incorrectly. Let the experts at Auto One assist you with your truck bed cover purchase.