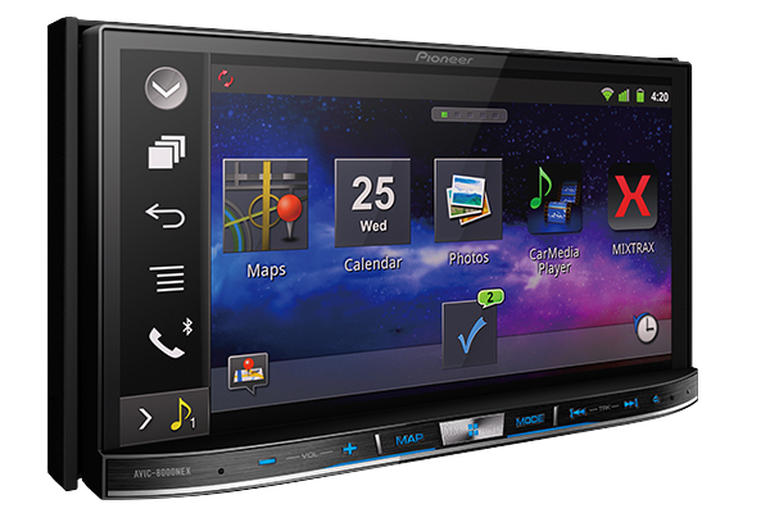 At the 2015 CES Show in Las Vegas, top car stereo manufacturers revealed the next big thing in automotive sound. Smartphones are playing a huge part of making it happen. Most manufacturers can support either Apple's CarPlay or Google's Android Auto, two systems that will bring the power of their mobile operating systems to the dashboard.
Pioneer
Last year, Pioneer tested the waters with Apple CarPlay first. This year, it is adding Android Auto. A 7-inch touchscreen allows drivers to interact with Android Auto apps. Users can also send voice commands with the receiver's external microphone. Pioneer's system will allow drivers to add Android Auto to any car.
Parrot
Parrot's RNB 6 head unit will add either Android Auto or Apple's CarPlay to any car you like. It has a 7-inch HD display with capacitive touch and HDMI input for external video. There's also internal storage for audio or video, inputs for satellite radio and FM/AM support.
JVC Kenwood
Car stereo manufacturer JVC Kenwood is joining the ranks offering Google and Apple's unique brands of smartphone integration with the announcement of the Kenwood DDX9902S. Simply connect a supported iPhone or Android device and the receiver's interface will automatically give touchscreen control over to the smartphone. In addition to the Apple and Google systems, the DDX 9902S is a fully featured in-dash multimedia receiver with a full gamut of audio sources, including USB, built-in control for Pandora and iHeart Radio, and more
Alpine
The ILX-007 is Alpine's first dedicated Apple CarPlay receiver. It is 100 percent deicated to Apple's in-car interface and it supports no other audio sources beyond USB-connected iPhone 5 or 6 smartphones running iOS 7.1 or higher. Once connected, the unit displays Apple's CarPlay interface, putting Siri voice search, Apple Maps navigation, voice activated calls and messaging, and a selection of media apps at the driver's fingertips.
Call Auto One toll free at 866-454-5277 with your car radio questions.