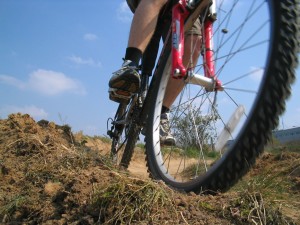 Michigan is one of the very best places to live – year-round. That's not based on any scientific data, just my life. Michigan is a state that was created to be explored.
Get on your bike and just start riding, in any direction! Start pedaling your bike and in about 6 miles you'll hit one of Michigan's 11,000 inland lakes, a Great Lake or you'll coast up to a stream. Michigan's streams run more than 36,000 miles! According to the Michigan Department of Transportation, when you're in Michigan you are never more than 85 miles from a Great Lake. That's amazing.
If you're from Michigan – I mean really from Michigan – then you know you need to take your bike to trails that won't lead you to a coffee shop. You need to take your bike to trails that only you can find. These trails are all over Michigan, you just need to get your bike to them.
You're not going to be able to get your bike to deep-wood, hidden trails in your dad's Buick Lacrosse. You'll need a truck. For this trip, you won't be able to just toss your bike into the bed of your truck. No, for this ride, you'll need to secure your bike with a rack.
Lucky for you, Swagman offers a Patrol 2 Bike Pick Up Rack. Swagman knows Michigan. Swagman's mission is to create products that help people enjoy the great outdoors. They have been developing superior bicycle racks for more than 20 years. Bike racks that have been designed for serious outdoor explorers and adventurers.
Swagman's Patrol 2 Bike Pick Up Rack will keep up to 2 bikes secure as you travel to find Michigan's hidden trails. Your bikes will be kept safe with the Patrol Bike Rack. It includes 4 lock cores that lock bikes to the rack, and the rack to your truck. This Bike Rack is a perfect fit for any truck! The Patrol Bike Rack boasts an all-aluminum telescoping bar that allows for an easy fit and adjustment. They take it one step further with a rotating and locking knob that allows you to make micro adjustments for the exact fit you want. If you haven't yet installed a bed liner for your truck, don't worry! The Patrol Bike Rack has soft, padded brackets that secure the rack to the bed of your truck.
Swagman's Patrol 2 Bike Pick Up Rack can be found at Auto One Glass and Accessories. At Auto One, the staff of experts can guide you through the installation of your new Patrol Bike Rack. Let your summer biking adventure start at Auto One, and then let it end wherever the trail leads you.