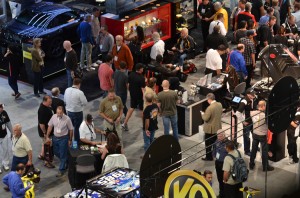 The SEMA Show is the premier automotive specialty products trade event in the world. It draws the industry's brightest minds and hottest products to one place, the Las Vegas Convention Center. Here are just a few automotive products featured at the SEMA Show 2014 show this month.
Bolt Locks
Do you drive a truck, haul gear or pull a trailer? If so, this product is for you. The BOLT Series of locks lets you set all your truck, trailer and equipment locks to work with one key – your ignition key! BOLT locks are made by STRATTEC Security Corporation, the world's largest manufacturer of automotive locks and keys.
Extang's New Solid Fold
Extang's new Solid Fold 2.0 tonneau cover is sure to please. The panels have a great-looking matte finish and are dent resistant as well as cool to the touch. Speed Klamps make the Solid Fold 2.0 quick and easy to install and operate. Improved panel design and integrated side seals provides the ultimate weather protection. For more information about Extang's Solid Fold visit www.extang.com.
Rhino-Rack
Rhino-Rack introduces the new RLT600 Quick-Release Track Mount Leg Kit. These attractive, versatile legs can be quickly installed or removed in seconds from any mounted track sets. Simply unlock and detach cover plates from the legs to expose the Quick-Release system. Engage the latches and pull up to remove the base rack from the tracks. Rhino-Rack makes durable and easy-to-use roof racks, luggage boxes, bike carriers, kayak carriers, load securing accessories and more.
CarPro Detailing Products
CarPro offer a wide range of products and everything you will need to keep your vehicle looking better than the day you picked it up! From powerful cleaners to paint protection, CarPro is the leader in automotive detailing products. The new CQuartz Leather and Vinyl is the ultimate in protection for both leather and vinyl surfaces throughout your vehicle!
Rostra ComfortHeat Heated Seats
Experience the gentle, therapeutic warmth of a Rostra ComfortHeat automotive carbon fiber seat heating system with dual-zone heating for soothing lower back pain and adding car seat comfort that works with cloth or leather vehicle seats. The therapeutic seat heater is fast-heating providing warmth in less than a minute. Treat yourself to the ultimate in comfort by installing both the ComfortSeat Lumbar Support and therapeutic ComfortHeat heated seats in your vehicle today!
Contact your local Auto One to get one or more of these great auto accessories today.