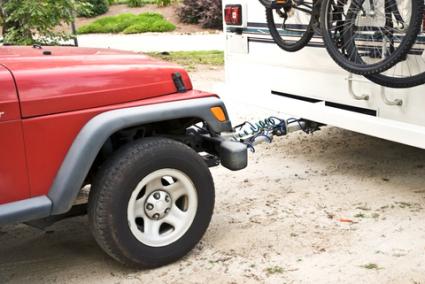 Get Your Vehicle Ready with Auto One
If you are into heavy duty towing, you want to know that your cargo is safe and secure no matter how far you are planning to travel. And you want your ride to be as smooth as possible. Whether you are hitching a car up to your RV or hitching a boat to your pickup truck, the equipment you choose matters.
No matter what your towing needs, Blue Ox has a product that will work for you. They offer products for flat towing and trailer towing to meet your needs. The first step in choosing a towing product is to calculate the weight of what you are planning tow. Once you know the weight you can select the right equipment that is capable of handling the load.
Flat Towing
Flat towing is a method where all four of the vehicle's wheels are touching the ground. Some people also call this 'four wheels down' towing. Flat towing is a great solution if you are towing a car behind an RV. Flat towing allows the treads on the vehicle's tires to wear evenly, which is important if you tow your vehicle frequently.
There are two main components to flat towing. The tow bar attaches to the towing vehicle and the baseplate holds the vehicle that is being towed.
A Variety of Tow Bars
When you are flat towing a vehicle, the most important component is the tow bar, and they're not all created equal. The tow bar does most of the work, carrying the weight of the vehicle being towed. Blue Ox offers a variety of tow bars to fit your specific needs, with a towing capacity ranging from 5,000 pounds to 20,000 pounds. Blue Ox tow bars are made from heavy duty materials, such as steel or aircraft-grade aluminum. The tow bars can be easily removed and stowed away in the towing vehicle when not in use.
 Baseplates to Fit Every Vehicle
Blue Ox baseplates are custom made to fit each individual towing situation without requiring drastic alterations to the vehicle. These durable, steel constructed baseplates are easily integrated into the vehicle's original frame and bumper. Blue Ox's unique design spreads the weight evenly to minimize pressure on the suspension. And it allows the towing baseplate to flex and absorb any shock during the ride, rather than transferring the force to the frame of the vehicle.
Blue Ox Baseplates are thoughtfully crafted to provide a streamlined look that is customized for your vehicle. To find your best fit, simply enter your vehicle information on their website (scroll down to the bottom to enter your information) and it will quickly identify the baseplate that fits your vehicle. Blue Ox towing baseplates come with a 3-year warranty and are designed to fit with Blue Ox tow bars.
 Trailer Towing
If you are towing a boat or a camper that comes with a trailer, you will want to use a trailer hitch. The hitch you choose will be based on the size and weight of the trailer you are towing. Blue Ox carries a variety of trailer hitches to meet your needs, including:
Preventing Trailer Sway
There are many factors that can cause trailer sway, including weather conditions, passing semi-trucks, and uneven roads in rural areas or construction zones. Any of these things can cause the trailer to sway from side to side, potentially causing an accident. Blue Ox has developed a weight-distributing hitch called SwayPro that helps prevent trailer sway.
SwayPro relies on tension to keep its spring bars taut and the brackets ensure that pressure from the spring bars will keep the trailer in line with your towing vehicle. SwayPro uses weight distribution technology with built-in trailer sway prevention. With this built-in sway prevention, in the event that your trailer starts to sway, one of the sway bars becomes more loaded than the other, keeping the trailer centered and in line with the towing vehicle.
SwayPro comes in three sizes, so you can choose the best size for your vehicle:
Minivans, 1/2-ton pickups, and cars with 0" to 5" adjustment for bumper height
Large SUVs and 3/4-ton pickups with 0" to 7-1/2" adjustment for bumper height
Large SUVs and 3/4-ton pickups with 0" to 10" adjustment for bumper height
Each SwayPro comes in a range of tongue weights, from 350 pounds up to 2,000 pounds, depending on the model you choose. The tongue weight is 13 to 15 percent of total trailer gross weight rating.
Auto One Can Help!
The experts at Auto One can help solve your toughest towing challenges. We can order and install your Blue Ox towing products in no time. Give us a call today and we can walk you through your options. Or visit your local Auto One store.