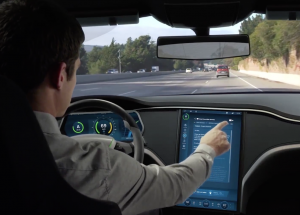 Bosch Autonomous Driving Technology
I grew up as a speeder. I was raised by a speeder. When I was in elementary school, I used to zip from home to anywhere riding in my dad's Datsun 280ZX. It seemed normal to me; I didn't even notice that we passed everyone. Getting pulled over by the police never fazed me. That's just one of the stops you make on your drive from Michigan to Pennsylvania.
Fast-forward to me in my 20s. Now I'm a speeder. I got pulled over. I never got out of a speeding ticket. Each time I got one, I knew I deserved it. Then I got a letter from the Secretary of State. She told me I was in the top 10% of Michigan's most unsafe drivers!
I needed to change. I needed to slow down. I tried. But, when I wasn't paying attention, my speed would keep creeping up over the speed limit. Then I started using cruise control. Cruise control, probably the first autonomous driving technology has kept me and all of the drivers around me safe.
Autonomous driving technology was created for me.
The most critical advantage autonomous driving technology can provide is the potential for zero accidents and injuries during drive time. Purchasing a completely autonomously driving vehicle may not be within your reach or budget right now, but you can take advantage of the technology that is currently available and affordable.
Bosch has developed autonomous driving technology that do even more, to keep us all safe. Here are some examples of their amazing new technology:
Automatic Park Assist, a technology that can automatically move your vehicle into and out of parking spaces – with or without you in the vehicle. This system enables automatic parking for driving into and out of parking spaces. The choice is yours – do you want to drive, or do you want to step outside of your car and let the Automatic Park Assist do the job for you?

If you choose not to drive, simply leave your vehicle in front of the parking space, get out. Then, start the parking maneuver remotely, by pressing a button on your car key or smartphone. Your vehicle will park or pull itself out of the space on its own. The parking maneuver will only continue to work as long as you are pressing the button on the remote key or smartphone.

Lane Keeping Assist, if you are distracted and allow your vehicle to drift away from the center of your lane, the Lane Keeping Assist will let you know! The system uses an integrated camera to detect the lane lines in front of your vehicle. It can work with up to four lanes, even if your lane line is temporarily missing. The system is activated when you begin to drift too closely to the line. The system can make gentle steering corrections.

Drivers can still, at any point, overrule the function and maintain control of the vehicle. When you use your turn signal, the Lane Keeping Assist does not intervene.

Predictive Emergency Braking System, this function helps you avoid rear-end collisions – or at the very least, lessen the severity. This technology works at slow speeds, commonly found in dense traffic jams. The Predictive Emergency Braking System is activated when your vehicle is driving dangerously close to a slower moving or stationary vehicle ahead of you. If you fail to react to the impending danger, the system will activate your vehicles emergency brake.
Autonomous driving technology was created for me – and maybe you, too. The cruise control feature in my vehicle has paid for itself a million times. I'm quite sure all of these new Bosch technologies will do the same. You can find a large selection of Driver Assistance Solutions at Auto One. It's up to you how sophisticated you want the technology and service to be on your vehicle. Talk to your Auto One technician for the best package for you.