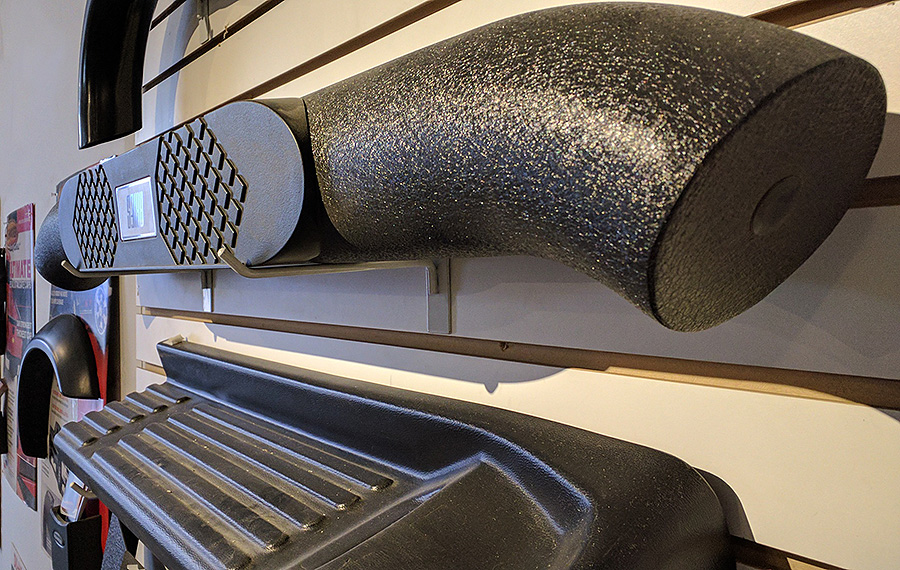 With so many different types of step bars, it's important to pick the right one for your vehicle. Options to consider include length, width, grip, and even the materials they are made from. Luckily, an associate at Auto One can help you decide which would best meet your needs.
Many step bars and running boards are made from stainless steel or aluminum, so the key features you need to consider before purchasing are what kind of size and finish you want. One option to consider is whether you need your step to run along your cab or the entire length of your vehicle (to help access the truck bed), or just a small step.
Running Boards, Step Bars, and Steps
When making your choice, it might help to know the key differences between the three major types of ways to help you get into your vehicle — step bars, running boards and steps.
Running Boards
Running boards typically run the length of the cab on your truck or SUV. They are long and flat and have quite a bit of clearance from the ground. If you are looking for a stepping surface that will offer more secure footing, a running board might be the best option. Many of them have some sort of traction on them for a less-slippery climb into your vehicle.
Other positives about running boards include:
Easy installation
Sometimes retractable
Provides place to wipe your feet of mud and dirt
Has a heavier weight capacity than a step bar
Keep in mind, however, that running boards may get dirtier more quickly than a step bar.
Step Bars
If you are considering a step bar, they provide a more compact option for your vehicle. Step bars are thinner and leave extra space between the step and the vehicle. Step bars are also referred to as "nerf bars," which originated in the sport of car racing. "Nerfing" is when one car bumps another, so drivers would put bars on the side to prevent it. Now, they are a useful tool to get in and out of vehicles!
Some benefits of step bars include:
Shape prevents snow and dirt buildup
Smaller in appearance than a running board
Blend in better with vehicle
Side Steps
The third option is a regular step, which does not run the length of your cab. These smaller options provide just enough support to give you a boost to get into your vehicle, but don't take up a lot of space or stick out too much.
These can either look similar to a nerf bar, with a small tubular step, or be a flat step like a running board, only much shorter.
If all these options seem confusing, your Auto One associate can go over them with you and help decide which one fits best with your vehicle and lifestyle.
Luverne Step Bars and Running Boards
Let's take a look at the different types of sidebars, running boards, and steps you can choose for your truck, SUV or van.
Luverne Grip Step 7″ Running Boards
These wide boards have tread that provide traction so you won't slip getting into your truck, even if your shoes are wet from rain or snow. Other key features include:
Expanded aluminum treads
Running boards protected by a durable black powder coat
Luverne Regal 7 Oval Side Steps
With their deluxe design, these steps provide comfort and aesthetics. Features of these steps include:
Non-skid step pads
Made with stainless steel
Two finish options
Designed with vehicle specific application
Luverne MegaStep 6-1/2″ Running Boards
Looking for something stylish but also functional? A Luverne MegaStep might be the best option for you! Some of the highlights for this model include:
Five inches wide
Non-skid rubber treads
Front trim features polished stainless-steel
Luverne O-Mega II 6″ Oval Side Steps
If you want a solid step that also has a look that stands out, the Luverne O-Mega II is a great choice. Key features of the design include:
Made from powder-coated aluminum
Black end caps
High-traction circular treads
Luverne 6″ Oval Tubular Nerf Bars
Does your truck need a little bit of style? Add some with the Luverne 6″ oval nerf bars! Add to your truck's look with the following features:
Six-inch-wide tubes
30-degree bent ends
Welded end caps
Non-skid plastic step pads
Available in stainless-steel or black-powder coated steel
Luverne SlimGrip 5″ Running Boards
Need something slimmer and sleek for your truck that will also provide good traction? Try the SlimGrip 5" running boards from Luverne. Highlights of these boards include:
Narrow profile
Angular end caps
Made with powder-coated aluminum
Expanded metal treads
Luverne 3″ Round Nerf Bars
Are you looking for a more classic option for your truck step? The Luverne 3" round nerf bars might be your best choice. This model has the following features:
Mandrel-bend tubes
Non-skid step pads
Made from stainless-steel
Polished or black-powder coated finish
No-drilling installation
Luverne Baja Steps
Are you more of the adventurous type? If you are taking your vehicle off-roading, then consider the Luverne Baja Steps. Features of this model include:
Powder-coated stainless steal
Maximum corrosion resistance
High traction circular treads
Made to custom fit your vehicle
No-drilling installation
About Luverne
Auto One is a proud vender of Luverne steps and running boards. Luverne has been in the auto accessory industry for almost 60 years. The company was founded in 1963 by Bud Heck, Forest Jennings and "Doc" Martin. The company's name came from the town it originated in, Luverne, Minnesota. Luverne's first accessory for sale was a heavy-duty bumper for agricultural pickup trucks. Throughout the years the company expanded its distribution network and American-made product line to include heavy-duty grille guards, running boards, tubular grille guards, nerf bars and side entry steps. Luverne joined the CURT Group in 2016, leading to an increase in their production capabilities.
Check out the Luverne catalog online, or visit your local Auto One to speak to one of our associates.