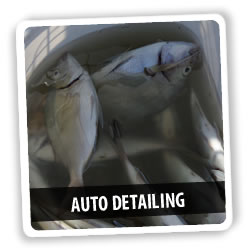 Like many good auto detailing stories before it, this fish tale is a story of revenge and corporate sabotage.
Years ago an insurance claim came to Auto One for an auto reconditioning. It was a conversion van which can be a difficult automobile to detail under normal circumstances. After pulling the van into the bay, we weren't ready for what we found inside. The seat pockets in the back of the conversion van were filled with decomposed fish; the kind normally used as bear bait.
An ex-employee had expressed his frustration by sneaking back into the van after his dismissal and filling it with rotten fish. After a day in the hot sun, the smell was overwhelming.
Getting that Fishy Smell Out
We detailed the conversion van for a week. Every trick in our car detailing book was used. Our specialty detailing skills were pushed to the breaking point. It was almost impossible to remove the odor. Almost, we got the stink out. After the insurance company's reimbursement limit was reached, the customer decided to keep the vehicle and paid us to finish the job.
The Lesson of this Fish Tale
If you have a spill of oily, organic matter in your vehicle, bring it to Auto One as quickly as possible. The sooner we can begin the reconditioning, the more likely we can get the odor out.