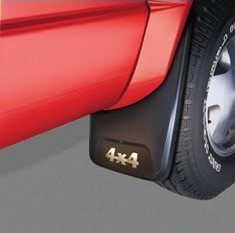 You've just installed rockin fender flares that keep mud and debris from building up on your fenders, but now you need to take safeguarding your vehicle to the next level; you can't be too careful with your special car or truck. Mud flaps are designed to take the cleanliness and health of your vehicle to that next level with their ability to deflect debris and keep your wheels going smoothly. Today's mud flaps, however, are more than just plastic hanging behind your tires; mud flaps are made from durable, crack resistant materials that won't wear down easily, such as ABS plastic, resins, polymers-rubber, and stainless steel. Mudflaps can be large rectangular sheets suspended behind the tires, or may be small molded lips below the rear of the vehicle's wheel wells.
Not all mud flaps are the same, nor do they have the same level of quality in their manufacturing; our wheel guard manufacturers use quality materials to construct custom molded, form fitting, crack resistant mud flaps for your vehicle. The mudguards we sell are designed to funnel water and debris away from your car or truck and from any items you may be towing. Many Mud flaps have a special groove design on them that funnels water and debris away from your vehicle protecting it by preventing the water from ever reaching the metal.
Not only are mud flaps useful, but they can also kick up the style factor for your vehicle; you can choose from a variety of style options to be imprinted on your flaps.
Popular Mud Flap Styles
4 X 4 Logo
Mud Flap Girl
Animals
Vehicle Specific
Other Branded Logos
Camouflage Flaps
Standard Smoke Black
Visit your Auto One to discuss your options for mud flaps today!