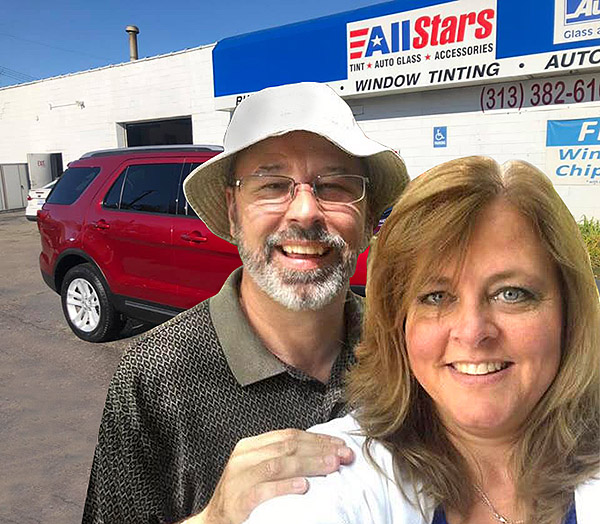 Auto One in Lincoln Park has two new faces at the helm. Lee and Rhonda Temple purchased the store this year from Marty Pelker and are now in the process of bringing their own touches to the business while maintaining the strong foundation he built.
Lee was employed in collision work for an insurance company for more than 15 years. He was getting tint on one of the cars from the collision shop when he and Marty struck up a conversation. The latter was preparing for retirement, and Lee thought it might be interesting to try a new line of work.
"I did some research. We went out to dinner, and I made an offer," Lee said. "Later that night my wife, Rhonda, asked what I did today. I told her that I bought a business."
The timing was also right for Rhonda, who was considering retirement.
"This is a whole career change for her — out of the corporate world," Lee said.
Rhonda worked with Marty for many months, learning how to run the business, while Lee worked in the shop.
"She pretty much knows how to run this whole place and is teaching me now," Lee said.
Strong Relationship with the Lincoln Park Community
Lee and Rhonda are keen on maintaining the relationship the shop has with the local community.
"It's [Auto One Lincoln Park] been a staple here for about 30 years," Lee said. "He [Marty] had such a presence, and people knew who he was. He was great with his customers. We want to carry on with that, so they aren't losing anything. Our customers are gaining things."
"Everything he built here. Marty put his heart and soul into this place, and we want to make sure we're super successful because he gave us a springboard," Lee said.
Adding Something New
The couple is already bringing something new to the Auto One shop, including launching a new mobile glass division.  "The mobile glass unit enables us to do work with collision shops and bring more convenience to our customers", Lee mentioned.
They also invested in more detailing. "Our commercial auto shampooer and steamer are a game changer for our customers," Lee said.
Another addition is a ceramic paint sealant. "We're experimenting with some different products found on the cutting edge of aftermarket technology," Lee said. He noted they are doing more work with stereo systems as well.
Growing the Company
In the end, Lee and Rhonda want to take the wonderful foundation Marty gave them and make Auto One Lincoln Park their own.
"We want to continue being a staple in the community with reasonable product prices and cutting-edge auto technology," Lee said. "If people walk in our door, we want to find a way to help them."