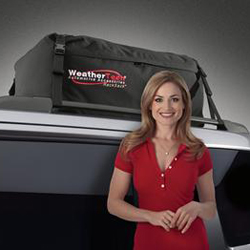 The start of many colleges and universities is just a few weeks away. Moving back to school for the first or the fifth time is always exciting. New lamps, lofts, and laptops to pack into the family car. What do you do if the lamp or the loft doesn't fit into the family car? Visit your local Auto One and review these cargo management solutions.
WeatherTech RackSack
If your vehicle has cargo rack, you may want to consider a WeatherTech RackSack. It will expand your cargo capacity to 13 cubic feet. The swivel straps make it easy to install. Although the RackSack is water resistant, it is not water proof. Some may find the flapping of the straps to be a distraction while driving. Easy to fill and put way when not in use.
Thule Sweden
Thule offers many different cargo carriers or roofboxes depending on your need and style. These are the torpedo style carriers that you've seen while traveling. An option like the Thule Pacific 100 DS offers "a lowered base for reducing air resistance, wind noise and vibrations". It's lockable and can be opened from either side.
Bed Extender
If you already have a pickup truck with an empty bed, a bed extender could provide you with two extra feet of length to your truck bed's capacity. The Amp Research Bedxtender HD is one option in this category.
Trailer Hitch
Don't think your car can be fitted with a trailer hitch? You might be wrong. Trailer Hitch manufacturer's have been designing hitches to fit just about every vehicle available. If you decide to have a hitch installed, be sure to talk to your installer about the weights of the items you will be moving. Just because you can put a hitch on an economy car, doesn't mean you should put a truck sized trailer on your car.
In addition to pulling a trailer, hitches are useful for mounting bike racks and external cargo carriers like the Rola Hitch Mounted Cargo Carrier that can carry up to 600 pounds of materials.
Ranch Cap or Tonneau Cover
Increase the vertical hauling capacity of your pickup truck with a Ranch fiberglass cap. If you are transporting a lot of items that could be damaged by water, a cap provides a lot of water resistant space for you. Installing a cap like the Ranch Supreme not only gives you more room but also adds to the overall appearance of your Dodge, Ford, Chevy, GMC or Toyota truck.
There are a lot of cargo management options available to you. Choices like trailer hitches and figerglass caps can be difficult to find the exact match for your car, truck or SUV. If you have any questions, don't hesitate to contact an Auto One near you.