You've seen the concept vehicles. You've watched the YouTube videos, and you've been bitten by the Truck Camping bug. If you've decided to jump on the Truck Camping bandwagon and convert your pick-up truck into the ultimate camping experience, you've come to the right place. Auto One Glass and Accessories is the perfect place for all of your pick-up truck transformation needs.  Before we take the first steps on the journey to camping and hiking freedom as a nomad, let's take a quick detour and discuss what Truck Camping is all about.
About Truck Camping
Truck Camping, the overlanding craze, has been a fixture at all the major auto accessories shows since 2016.  The trend is all about taking your pick-up truck, Jeep or SUV to the seldom visited places.  Enjoying the outdoors without pulling or hauling a large camper. Everything you need for the camping experience is right on your truck.
This year, Auto One attendees to CES, the Keystone Big Show, and the Michigan International Auto Show (MIAS) saw more truck camping accessories than ever before. The trend is so popular, Ford created the Expedition Timberline to highlight the off-grid options. At MIAS, Gentex has displayed its custom truck camping rig. Both are very impressive builds.
The potential for all the things you can modify on your pick-up is exciting (and a little daunting).  We asked the experts at Auto One what they would add to their pick-up trucks to enjoy truck camping.  They made us a sketch and a list.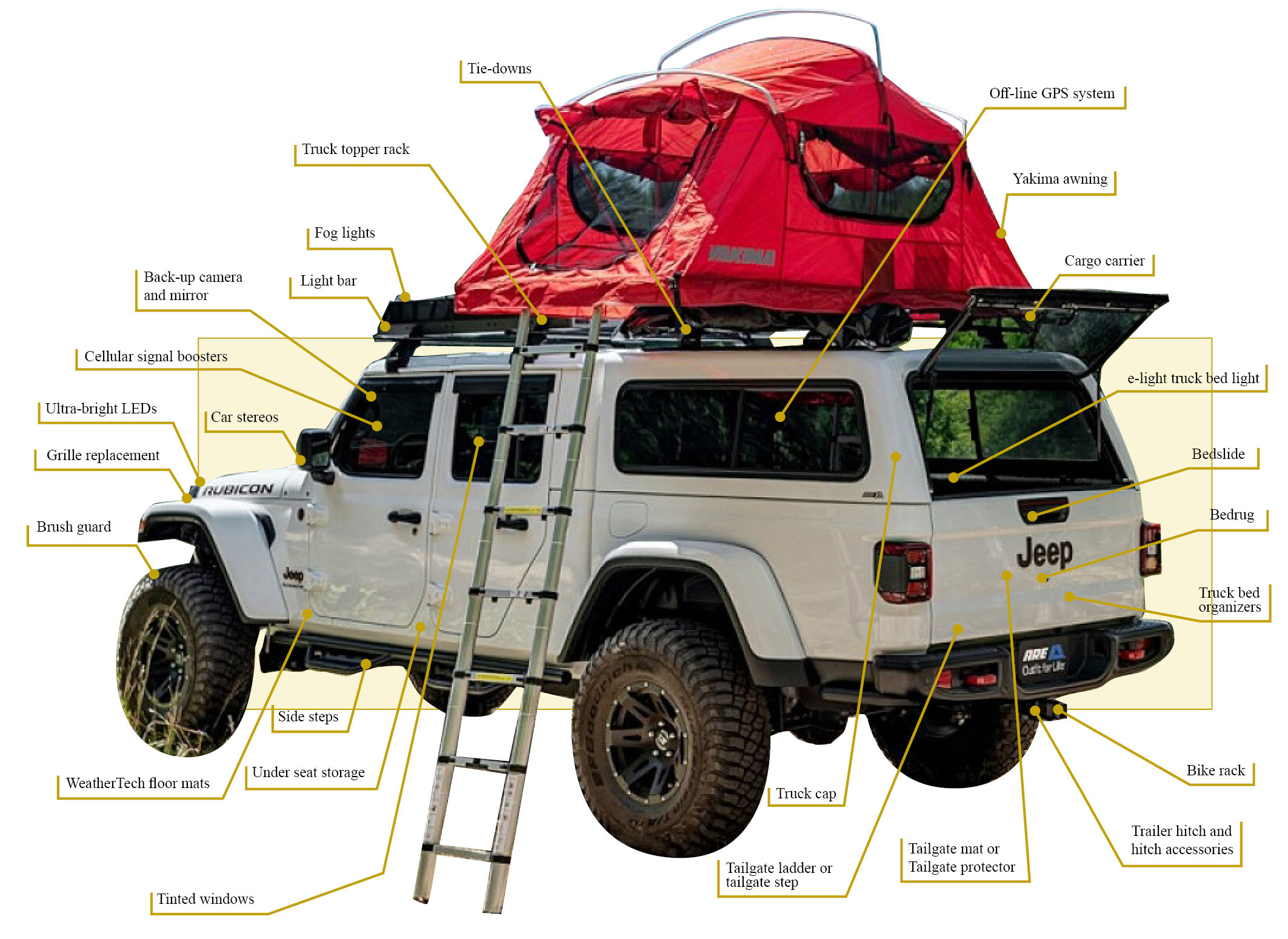 Truck Bed
Truck cap
Truck bed organizers
Bedslide
Bedrug
Tailgate ladder or tailgate step
Tailgate mat or Tailgate protector
Bike rack
Cargo carrier
Yakima awning
Truck topper rack
Interior
Under seat storage
WeatherTech floor mats
Back-up camera and mirror
Off-line GPS system
Car stereos
Cellular signal boosters
Exterior
Trailer hitch and hitch accessories
Light mounts
Tinted windows
Tie-downs
Side steps
Ultra-bright LEDs
Brush guard
Grille replacement
Light bar
Fog lights
The best part is you can find all of these aftermarket truck camping accessories at one store, Auto One.
Convenience and Expertise at Auto One
If you are an avid do-it-yourself-er (DIY), you're probably thinking "a few YouTube instruction videos, and I'm good to make all these modifications."  For the rest of us, there's Auto One.  The 12-volt and accessories installers have been working on pick-up trucks for years.  As a corporation, Auto One has been installing aftermarket accessories for decades.  Your pick-up truck is your baby. We get it (ours is too).  We'll help you choose the right accessories and will install the accessories inside away from the dirt and the rain (or the heat and humidity if you are from Florida).  When your new ultimate truck camping machine is ready, we'll let you know and keep it safe until you can pick it up.
If you are ready to start building your dream truck camper, visit your local Auto One to accessorize your truck. Once it's ready, most of our Auto One shops aren't far from a camping super-store for the handful of camping gear Auto One doesn't sell. We're looking forward to working with you.