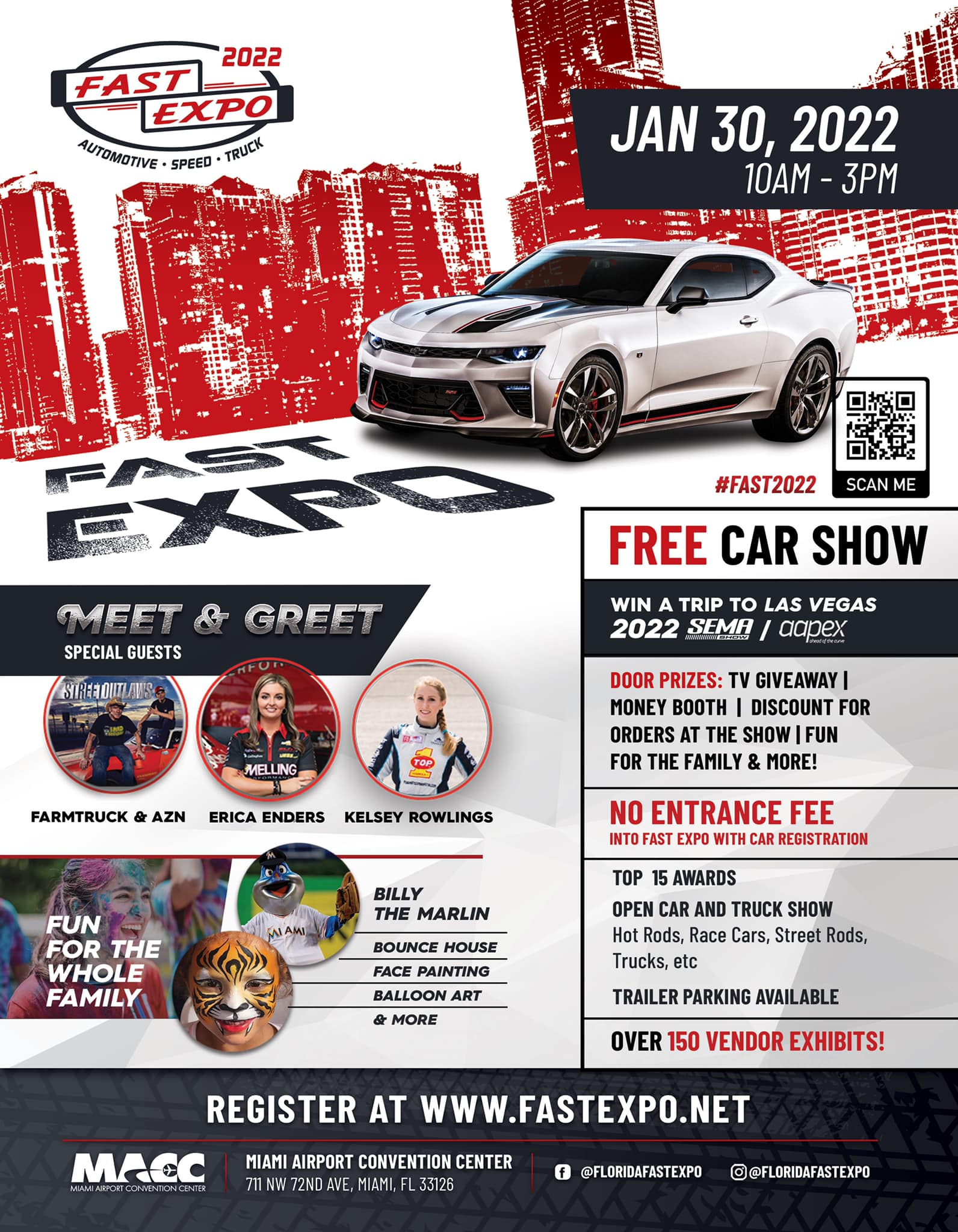 There are many aftermarket accessories trade shows throughout the year. One of the events that has recently become our favorite is the Florida Fast Expo by NPW Companies.  In 2022, our Auto One West Palm Beach team traveled to the beautiful city of Miami to attend Fast Expo at the Miami Airport Convention Center (MACC). The MACC is located directly adjacent to Miami International Airport (MIA) and at the intersection of two of Miami's major highways—the Palmetto Expressway (SR 826) and the Dolphin Expressway (SR 836).
From their Web site, Fast Expo is "Florida's largest traditional, performance, and truck show has more than 150 vendors, hundreds of new items, and a large car show all at the Miami Airport Convention Center. Door prize give-a-way worth thousands of dollars including several giant TVs and a GRAND PRIZE is a trip to Las Vegas and SEMA."
Best of Florida's Aftermarket Accessories
With 150 vendors in attendance, we saw many aftermarket add-ons that we know Auto One customers will enjoy.  We chatted with our favorite vendors and manufacturers including
We saw some interesting, new products that we are excited to bring to market in 2022-23.  Some of Auto One West Palm Beach's best sellers were there including the Extang Trifecta ALX and Husky Liner floor mats.
Hobnobbing with Florida Celebrities
Florida Fast Expo also a family friendly atmosphere.  This is a free event for the whole family that includes a car show and activities for the kids like Billy the Marlin (the official mascot of the Miami Marlins baseball franchise), face painting, bounce houses, and more.  The car show in the Miami Airport Convention Center was spectacular.  Kenny from Auto One West Palm Beach lead the crew around the cars. We saw everything from modified Jeep Wranglers to High Performance Street Cars to Hot Rods to sweet classic cars.
While walking around the Fast Expo hall, we stopped at the Streetoutlaws booth.  Farmtruck and AZN, the dynamic duo who race a '70 Chevy long bed truck, were both there.  Farmtruck and Chris from Auto One West Palm Beach talked about fast cars and modifications.  Also in attendance of Fast Expo were Erica Enders, four-time winner NHRA Mello Yello Drag Racing Series, and Kelsey Rowlings aka #driftchick, a Formula Drift ProSpec driver. Kelsey started drifting in 2008.
Previous Fast Expo celebrities have included the Heat Dancers, Tony Stewart – NASCAR cup champion, Jeff Lutz from the Streetoutlaws, and Johnny Bohmer.
Start Planning for Fast Expo 2023
You can learn more about the Florida Fast Expo by visiting http://fastexpo.net/ or  https://www.facebook.com/floridafastexpo.  Auto One West Palm Beach would like to thank our rep, Sandy, for the invitation to the Florida Fast Expo by NPW Companies.  We recommend the Fast Expo to all of our Auto One customers. Take the entire family. It's an entire day of fun for free. See some amazing cars, make a wish-list of all the aftermarket add-ons and electronics you like.  Visit Auto One to add them to your ride.