If you are in the market for a new tonneau cover for your pick-up truck, you may be overwhelmed by all of the choices. Tonneau covers are one of the most popular truck accessories, and there are new products coming to market every season.
At Auto One, we're here to help. We are experts in truck accessories, and our team members are always up-to-date on the latest trends. In this article, we will explain some of the benefits of soft and hard tonneau covers to help you make an informed choice. We will also recommend a few of our favorite products.
Benefits of Hard Tonneau Covers
Hard tonneau covers come in a wide variety of styles. They are made of heavy duty and sturdy materials such as plastic, aluminum and fiberglass. There are even hard covers that match the color of your truck's paint, creating a seamless and streamlined appearance.
Hard covers are extremely strong and can withstand a significant amount of weight and pressure without collapsing. The most significant benefit of a hard tonneau cover is security. With a hard cover installed, you can have confidence that your truck and its cargo are protected from theft or damage. They also offer superior water resistance.
Benefits of Soft Tonneau Covers
Soft tonneau covers are usually made of thick and durable vinyl. They may snap or zip onto a frame that is attached to the sides of the truck. Soft tonneau covers offer great protection from the harsh weather elements, whether it is rain, snow, or even the scorching sun. They can protect your cargo and your truck bed from damage.
The number one benefit of soft tonneau covers is affordability. Hard covers are typically two to three times more expensive than soft covers. Unless you need the added protection and security of a hard cover, the soft cover may be the best choice for you.
Soft covers are also lightweight and easy to use. They offer a basic level of security, since most covers cannot be opened unless the tailgate is already open.
Toolbox Tonneau Covers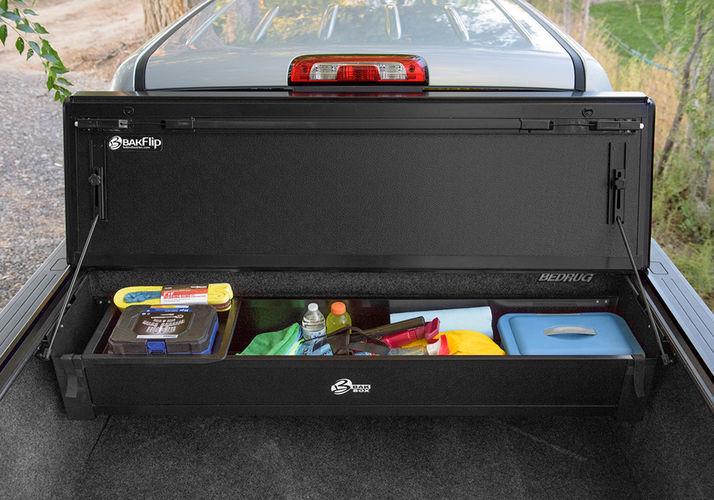 One more option to consider is the toolbox tonneau cover. They come in both hard and soft options. If you already have a toolbox installed in your pick-up truck, you will want to look for tonneau covers that will fit around it, such as the Extang Trifecta 2.0. If you do not have an existing toolbox, then you can look at other toolbox options such as the BAKBox2 or the Fold-a-Cover Personal Caddy Toolbox, which integrate with a new tonneau cover from the same manufacturer.
Auto One is Your Source for Truck Accessories
Auto One carries a large selection of tonneau covers. And if we don't carry it, we can probably order it for you. If you have a specific product in mind that is not listed here, call or visit your local Auto One store to find the tonneau cover nearest you. Our friendly and knowledgeable staff would be happy to help you select the tonneau cover that best fits your needs and budget.